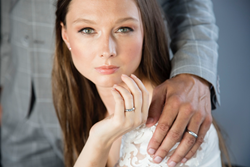 (PRWEB) December 16, 2016
Smithson Tennant, a division of American Elements, announced today that for the first time in the world history of jewelry making it has developed the technology to produce jewelry from iridium. Iridium is one of the precious metals like gold, silver and platinum but due to its extremely high melting point and extreme hardness – comparatively, gold melts at 1,945° F while iridium melts at a staggering 4,435° F – it is not a metal jewelers are presently able to work with. "It's been several thousand years since a new precious metal has been added to the materials used in making jewelry," said Michael Silver, CEO of the company. "This technological advancement is of great historic importance." With this new metal, Smithson Tennant introduces an exclusive line of Iridium wedding bands and commitment rings as an opulent new way of expressing a promise of forever. The collection sets an all-new standard in fine jewelry. As the least tarnishing and therefore highest luster precious metal, iridium's unique bright platinum gray luster lasts longer and under more extreme conditions than gold and platinum. It can even be dipped in concentrated acid and not tarnish. American Elements' expertise in working with pure iridium allows Smithson Tennant to collaborate with fashion and jewelry designers and produce the patent-pending, first and still the only, certified 24 karat, 99.9% pure iridium jewelry.
Since its inception, Smithson Tennant iridium rings have been a best kept secret among in-the-know celebrities, tech entrepreneurs, and financiers. It has been custom ordered by a roster of prominent personalities including the Silicon Valley billionaire famous for starting the first commercial space flight program, a member of a renowned rock group, and a well recognized hedge fund manager. Like gold, silver and platinum, iridium trades on international precious metal daily commodity exchanges and has on occasion exceeded the price of gold and platinum per troy ounce. Each Smithson Tennant ring is stamped and comes with a certification of its purity and weight for inheritance, insurance and acquisition documentation purposes. As both a real and metaphoric sentimental investment, these iridium rings are valued by individuals who demand only the very best. Smithson Tennant Iridium rings are available starting at $1,963.86 online at https://www.smithsontennant.com.
American Elements conceived the Smithson Tennant line based on its dedication to innovation and the highest standards of consistent quality, along with its dependable capabilities in properties, applications, and cost-effective bulk manufacturing of advanced and engineered materials. It has over two decades of experience in manufacturing iridium components for a wide range of scientific, academic, and commercial applications for use by such institutions as NASA and JPL. Its distinguished reputation in the production of numerous customer proprietary formulations from its extensive network of production facilities worldwide has served thousands of global manufacturers, all U.S. national laboratories and military branches, universities throughout the world, and customers in a wide range of industries that now include fine jewelry with the unmatched quality and elegance of Smithson Tennant.