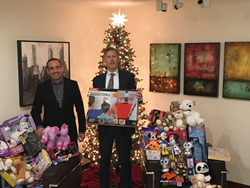 PHILADELPHIA (PRWEB) December 16, 2016
The Philadelphia transportation law firm Myers Lafferty Law Offices, P.C. is pleased to announce that it participated in two charitable programs during the holiday season, part of its commitment to philanthropy efforts that support some of the most vulnerable among us, included wounded veterans, abandoned animals and children fighting serious illnesses.
Myers Lafferty staff and attorneys collected donations for Toys for Tots, an organization that collects toys for economically disadvantaged children. They also collected items for Operation Gratitude, an organization that puts together care packages for deployed U.S. service members, first responders, new recruits, veterans, and their caregivers.
"One of the most important values at Myers Lafferty is giving back," said Founding Partner Bill Myers. "We are dedicated to helping our local community, and also to organizations such as Toys for Tots and Operation Gratitude that allow us to help people who are facing some really critical challenges in life."
Since 1947, Toys for Tots has been ensuring that children have a happy holiday. The U.S. Marine Corps Reserve Toys for Tots Program collects unwrapped toys for disadvantaged children during October, November and December. A local Marine Corps Reserve Unit or a group of veteran Marines, authorized by the Foundation, facilitate the collections. Learn more about local collections here.
Each year, Operation Gratitude says thank you and expresses appreciation for service members, veterans, first responders and caregivers. The organization has shipped more than 1.6 million care packages since its inception in 2003. Each care package includes a letter of appreciation, along with food, hygiene, entertainment, and handmade items. Learn more about its efforts here.
About Myers Lafferty: Based in Philadelphia, with offices in Boston and New York, Myers Lafferty is a personal injury law firm with a focus in FELA law. Myers Lafferty understands the physical suffering, financial peril and sense of hopelessness people endure when seriously injured by others, and the firm strives to obtain for clients full compensation for the disruption to their lives, physical injuries, pain, loss of income, stress and strained relationships. When others are not responsible and your life is seriously impacted Myers Lafferty is the team you need on your side who can relentlessly advocate for you.
###