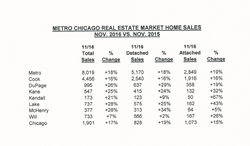 CHICAGO (PRWEB) December 17, 2016
Home sales activity in the seven-county metropolitan Chicago area increased sharply in November, with sales for the month reaching the highest level since 2005 in the heart of the housing boom, RE/MAX reports. There were 8,019 homes sold last month, an increase of 18 percent over the November 2015 total and the most for November since 9,740 homes were sold in 2005.
The November sales surge was a marked contrast to the results just a month earlier. October sales fell 5 percent compared to the same month last year.
"It's difficult to explain why home sales were down in October but were so buoyant in November," commented Jack Kreider, executive vice president and regional director of RE/MAX Northern Illinois. "It could be that many sales transactions which normally would have been completed in October were pushed back into November. Perhaps, it was related to the election, but whatever the reason, we're delighted to see the housing market deliver such a strong November performance."\
Kreider noted that the November median home sales price was $215,000, 9 percent more than a year earlier, while the average number of days those homes spent on the market before going under contract fell to 88 days last month from 92 during the prior November. That is the lowest market time for November since 2005.
Meanwhile, the inventory of homes for sale continued to run at about 10 percent below 2015 levels, a situation that has persisted throughout the second half of this year, according to Kreider.
The home sales data used for the RE/MAX analysis is collected by MRED, the regional multiple listing service. It covers detached and attached homes in the Illinois counties of Cook, DuPage, Kane, Kendall, Lake, McHenry, and Will. Detached homes are typically stand-alone single-family dwellings. Attached homes include condominium and cooperative apartments along with townhouses.
Sales activity and the median sales price rose in all seven metro counties and in the City of Chicago during November. The collar counties of DuPage, Kane, Kendall, Lake, and McHenry recorded increases in sales activity ranging from 21 to 28 percent. Cook County, which accounted for 56 percent of all transactions, had an increase of 16 percent, including a 17 percent increase in Chicago. Sales climbed 7 percent in Will County.
The biggest gains in median sales price were in McHenry, up 13 percent, Cook and Chicago, up 11 percent, and Will, up 10 percent. The median price rose 7 percent in DuPage, 6 percent in Kane, 5 percent in Kendall and 3 percent in Lake. 
Detached Homes
November sales of detached homes rose 18 percent in the metro area to 5,170 units, and the median sales price gained 8 percent to $231,000 when compared to the same month last year. Average market time was 99 days, one day longer than last November.
Detached home sales rose most strongly in McHenry, up 34 percent; DuPage, up 29 percent; Lake, up 25 percent; and Kane, up 24 percent. Sales in Cook rose 16 percent, including a 19 percent gain in Chicago. There were more modest increases in Kendall, up 9 percent, and Will, up 2 percent.
There was a noticeably wide spread in median sales price increases, ranging from 19 percent in Chicago to 1 percent in DuPage. Results for the other counties were: Cook up 10 percent, Kane up 12 percent, Kendall up 3 percent, Lake up 7 percent, McHenry up 11 percent and Will up 10 percent.
Attached Homes
With sales activity 19 percent higher this November than last, the attached home market remained especially active. Sales for the month totaled 2,849 units, and the median sales price was $180,000, up 7 percent from November 2015. Moreover, attached units continued to sell quickly, with an average market time of 69 days.
Sales activity was up in all seven metro counties, but the increases varied widely, with Kendall up 67 percent and Lake up 43 percent to lead the way. In contrast, sales in McHenry rose just 5 percent. Other gains were 32 percent in Kane, 26 percent in Will, 19 percent in DuPage and 16 percent in Cook, which included a 15 percent increase in Chicago.
Median prices rose most sharply in Will, up 13 percent, Cook, up 12 percent, and DuPage, up 11 percent. Elsewhere, gains were 7 percent in Lake and McHenry, 5 percent in Kane and 2 percent in Kendall, while Chicago gained 9 percent.
RE/MAX agents consistently rank among the most productive in the industry. In 2015, RE/MAX Northern Illinois agents averaged 18 transaction sides. RE/MAX has been the leader in the northern Illinois real estate market since 1989 and is continually growing. The RE/MAX Northern Illinois network, with headquarters in Elgin, Ill., consists of more than 2,300 sales associates and 106 independently owned and operated RE/MAX offices that provide a full range of residential and commercial brokerage services. Its mobile real estate app, available for download at http://www.illinoisproperty.com, provides comprehensive information about residential and commercial property for sale in the region. The northern Illinois network is part of RE/MAX, a global real estate organization with 110,000+ sales associates in 100+ nations.
RE/MAX® is a registered trademark. This release is posted at blog.illinoisproperty.com.