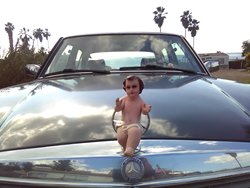 On that day Jesus will look each of us in the eye, and say,"I got this tab. Let's go back to My house and party!"
(PRWEB) December 16, 2016
The "Baby Jesus" line of products is available now: for these holidays right here now. Easter 2017: The "Risen Lord" line will be added also shower caps and sleep masks should become available. Then the "Jesus" line of sunglasses will be available for summer, with a distinctive "Jesus" scripted logo, right there on the top right of the lens.
The book ("The Uncensored Story Bible for Adults") is available to read or listen to at the site. Also the holiday Caroling Center has a catalog of fun holiday mashups, covers, and classic videos. And the 420 Blog is added to daily. The new eCommerce retail store features the "Jesus" line of products.
Jesus gets leaned on pretty hard at The End of the World Gardening Club. But, there are no domain problems. He has a tight reputation with a large demographic, with international recognition through the roof. He works for free. Spokesman Berthe added, "The church has been exploiting Jesus for millennia, and badly! Flat earth, slavery, rock and roll, abortion, gay rights, the church has been on the wrong side of history 100%. So, anyway, the Club is not the first guy on the block to exploit Jesus. Maybe the first .com?"
Jesus said, "Do not trust religious leaders" Berthe expounds: "He said that more often than He said anything else. Salvation is free and assured for everyone. This is what the religious leaders do not want you to know. It puts them out of work. This is why religious leaders had Jesus killed."
The social network website (under development) will be owned by users. It will provide all the same services as a church. Sunday School, live feeds, music department (studio and collaboration tools), marrying and burying. "Shares" in the value of the site are earned by sharing the site with friends and tracked multilevel six generations. Users are owners. This isn't church.
The video attached is linked only to this release. Spokesman Berthe, is explaining his Christmas miracle.