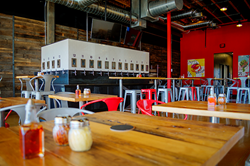 DTT will be a huge help in establishing operating procedures in new stores, training staff, and continuing to support franchisee success.
Las Vegas, NV (PRWEB) December 20, 2016
Los Angeles, CA | DTT announces today a new partnership with zpizza International, a pizza-focused restaurant concept concentrated on high-quality ingredients inspired by a healthy lifestyle. Headquartered in Irvine, California, zpizza currently comprises 60 total franchise locations in addition to 5 self-pour Taproom sites, operated by Corporate. zpizza and zpizza Taproom restaurants are located throughout California and in 12 other states, along with international stores in the United Arab Emirates, Vietnam, and Bahrain.
DTT is now the exclusive vendor for zpizza Taproom and the only preferred vendor thus far for traditional zpizza stores. In October 2016, DTT contacted zpizza to gauge interest on implementing a new, full-service loss prevention system. After learning more about DTT's suite of services, zpizza executives were confident that the solution was a fit, particularly for the emerging Taproom branch, and signed a Master Purchasing Agreement within two short months. The first DTT installation will take place in Sacramento by the end of December, with more installs to be scheduled as franchisees are notified of the partnership and upon the opening of 12 new Taproom locations in 2017.
"As an experienced and reputable vendor, DTT will be a huge help in establishing operating procedures in new stores, training staff, and continuing to support franchisee success," says Amir Sabetian, Vice President of Operations for zpizza International. "We expect the SmartAudits™ to be particularly valuable in ensuring all employees are working efficiently and each operational area is running smoothly. Additionally, with the Taprooms' self-pour craft beer technology – which is fairly new to the marketplace in California – we absolutely need an extra set of eyes to verify guests are safely consuming alcohol and to mitigate risk in case of any problematic incidents."
"It's been an exciting few months working with zpizza so far, especially since the Taproom concept is still in the rather early stages of development," states Kim Helms, DTT's Vice President of National Accounts. "Our team has worked very hard to provide the brand with tools that will present a strong return on investment, from customized audits, to audio kits over the main registers, to specialized camera locations. I'm certain that DTT will be a positive force in shaping operational procedures and enhancing employee activity at zpizza restaurants in the coming months."
About DTT
Headquartered in Las Vegas, Nevada, DTT provides digital video surveillance solutions to the hospitality and specialty retail industries. DTT was founded in 1999 by Sam Naficy, leveraging the power of emerging digital technology to support the needs of a broad base of clientele. Since first launched, DTT has equipped, serviced and supported more than 35,000 clients. Every day, software provided by DTT protects trillions of dollars in assets and oversees nearly 2 million employees. Some of the world's most popular and respected restaurant brands use DTT including McDonald's, SUBWAY®, Dairy Queen, Burger King, Dunkin Brands, Taco Bell, KFC, Auntie Anne's, and Potbelly Sandwich Works, to name a few. Please visit http://www.dttusa.com for more information.
About zpizza International
zpizza was founded in the art colony of Laguna Beach, California, where creativity and craftsmanship have flourished for almost a century. So it comes as no surprise that our critically acclaimed pizza is a true Laguna original. A passion for great food is why we start with dough made from non-GMO wheat flour prepared fresh every day, hand-thrown and fire-baked until uniquely crisp. Our zest for quality continues when the toppings go on. We combine select ingredients using award-winning skim mozzarella from Wisconsin, certified organic tomato sauce, MSG-free pepperoni, additive-free sausage, and fresh produce. Our gourmet salads and sandwiches are just as delicious. We hope you enjoy our authentic and unique recipes as much as we enjoy making them for you. Visit http://www.zpizza.com for more information.