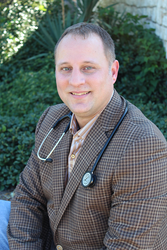 "I decided to join Healthcare Associates in Coppell because of the incredible opportunity it afforded me to practice quality medicine in a tightly knit local community with the resources of an established, successful, and respected cutting-edge practice.
Coppell, Texas (PRWEB) December 16, 2016
Healthcare Associates of Texas announced today the addition of Jason Conn, DO, to its primary care practice in Coppell, TX. Dr. Conn has been practicing medicine in the Dallas-Fort Worth area since 2003 and will be working alongside Charles Calvert, DO.
"Dr. Conn is a top-notch physician who will be an outstanding addition to our team of well-trained, well-spoken and caring physicians," said Dr. Charles Powell, chief of clinical operations. "His advanced skill set, combined with our technology, was a perfect match."
Dr. Conn earned a bachelor of arts in biology from Baylor University and a doctor of osteopathic medicine from the University of North Texas Health Science Center. Dr. Conn completed his internship and internal medicine residency at Plaza Medical Center in Fort Worth.
"I am excited to join Healthcare Associates of Texas and to have the resources of a well-established, successful, respected and cutting-edge practice behind me," said Dr. Conn. "It is also an honor to be able to practice quality medicine in a tightly knit community."
Dr. Conn is board certified in Internal Medicine by the American Osteopathic Board of Internal Medicine and is a member of the American Osteopathic Association. He has been a member of the American College of Osteopathic Internists, Texas Osteopathic Medical Association, Texas Medical Association, American Medical Association, and Christian Medical and Dental Society.
About Healthcare Associates of Texas
Healthcare Associates of Texas LLC was founded in 1991 and is headquartered in Irving, Texas. The company currently has three north Texas locations. In addition to offering primary care and family medicine services, the company provides patients with a number of ancillary services, including imaging, diagnostics, physical medicine and an in-house pharmacy.