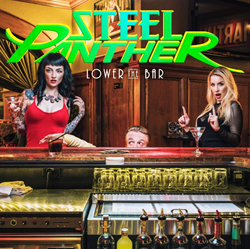 Los Angeles, CA (PRWEB) December 16, 2016
Rock N' Roll fans looking to turn up the holiday cheer this season, look no further. Today the internationally renowned glam rock band Steel Panther debuted their sing-a-long music video for Anything Goes, the latest single off their upcoming album, Lower The Bar, on Vevo. In Anything Goes, fanthers can sing along in a spectacular psychedelic fashion with on screen lyrics about Charlie Sheen, unicorns and hand grenades. It's the music video all your friends will be talking about at this year's holiday party.
Anything Goes is currently streaming on the band's website: SteelPantherRocks.com
As an extra holiday bonus, fans who preorder LTB at the bands site or on iTunes or Amazon will instantly get access to download Anything Goes and She's Tight, the first single from LTB. Anything Goes is now streaming on Spotify and Apple Music. Fanthers can also preorder special packages of LTB at PledgeMusic or SteelPantherRocks.com.
In less impressive news, Fanthers will now need to wait another month to get their hands on Lower The Bar, as the band announced today that drummer Stix Zadinia recently checked out of rehab after battling alcohol addiction.
"After months of touring the world, my taste for whiskey and chipotle finally got the better of me and my stomach," said Stix. "I'd like to apologize to my friends, family, and especially Satchel, whose bottom bunk on the tour bus was on the receiving end of my many blacked out bouts of explosive diarrhea. Now that I've had time to clear my mind, and my intestines, I can get back to doing lines with all of you on the upcoming 2017 Girls in a Row Tour," he proclaimed.
Lower The Bar is Steel Panther's fourth studio album and is the follow-up to their 2014 chart topper, All You Can Eat, which debuted at #1 on Billboard's Top Current Comedy chart and #24 on their Top 200 Album chart. "LTB" is set for release on March 24, 2017.
Earlier this year, Steel Panther premiered "Live From Lexxi's Mom's Garage," the band's first full length film/DVD featuring a live ten-song acoustic concert interspersed with comedic vignettes. The "National Rock Review" called the film "The best night in you've had in pretty much forever." XXXclusive DVD bundles of "Live From Lexxi's Mom's Garage" are available on the band's website.
Steel Panther recently completed a European headlining run with dates in Austria, Italy, Germany, France, Luxembourg, Belgium, Netherlands and the UK (Wembley Arena) and are now on a US national tour. To see when Steel Panther stops in your city, head to SteelPantherRocks.com/tour
Click here to download the album cover art for "Lower the Bar."
TRACKLISTING:
1. Goin' In The Backdoor
2. Anything Goes
3. Poontang Boomerang
4. That's When You Came In
5. Wrong Side Of The Tracks (Out In Beverly Hills)
6. Now The Fun Starts
7. Pussy Ain't Free
8. Waster Too Much Time
9. I Got What You Want
10. Walk Of Shame
11. She's Tight
Bonus Tracks (Deluxe CD Only)
12. Red Headed Step Child
13. Momentary Epiphany
ABOUT THE BAND:
For the uninitiated, Steel Panther was formed in 2000 and is Michael Starr (lead singer), Satchel (guitarist), Lexxi Foxx (bass) and Stix Zadinia (drums). Hailing from Los Angeles, the epicenter for rock n' roll in all its debauchery and glamour, Steel Panther has established themselves as the world's premier party band, melding hard rock virtuosity with parody and criminally good looks. With three full-length albums, touring across the world, platinum-level You Tube status and high-profile television appearances such as Jimmy Kimmel Live,Larry King Now, and FOX NFL Sunday, the band is touring in support of their latest effort, All You Can Eat (Open E Records via Kobalt Music Services).
Of All You Can Eat, Rolling Stone avowed, "There's a reason Steel Panther have transcended their origins as a cover band playing the Sunset Strip," while Metal Sucks declared, "Steel Panther's concept is genius…their songwriting is…preposterously snappy – and relatable." Click HERE to check out the music video for "The Burden of Being Wonderful."