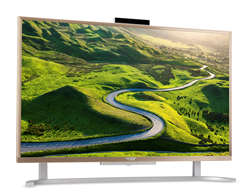 SAN JOSE, Calif. (PRWEB) December 20, 2016
Editor's Summary

The new Acer Aspire C Series with both 23.8- and 21.5-inch Full HD display models feature a slim .31-inch bezel and stunning aesthetics
Deliver ample power with up to 6th generation Intel® Core™ i3 processors and 8GB DDR4 memory
Provide significant storage capabilities with up to 1TB(1) 5400RPM hard drives
Acer America today announced the expansion of its all-in-one desktop line in the United States with the new Aspire C Series featuring 23.8- and 21.5-inch display models touting beautiful, sleek aesthetics and ultra-thin .31-inch bezels to maximize viewing area. This line makes an ideal holiday gift for those wanting their first PC or a second one for the home.
Smart ergonomics make computing comfortable. The chassis tilts from -5 to 20 degrees for easily finding the best angle for watching a film or working on a spreadsheet. For high-quality teleconferences, the 1MP HD webcam and Full HD (1920 x 1080) display deliver clear and vibrant images, while a built-in single array microphone emits clear audio. To enhance the clean design, save space and reduce clutter, Bluetooth 4.0 LE and 802.11ac(1) eliminate messy wires.
"The new Acer Aspire C all-in-one desktops are an excellent choice for those desiring a gorgeous PC with ample power at a great price for managing your digital library of music, photos and videos," said Frank Chang, director of stationary products for Acer America.
The Acer Aspire C Series offers plenty of power for fueling productivity applications, casual gaming and social media with up to a 6th generation Intel® Core® i3 processor, up to Intel® HD Graphics 520 and as much as 8GB DDR4 memory, depending on configuration. Spacious hard drives with up to 1TB(2) storage capacity can accommodate a large library of applications, files and multimedia. Bundled with a free trial of Microsoft Office 2016, it provides the latest productivity tools for work, school and home projects.
Offering excellent connectivity, the Aspire C Series comes with two USB 3.0 ports and two USB 2.0 ports for linking to peripherals and digital devices. In addition, two speakers deliver quality audio.
The Aspire C Series all-in-one desktops are available with a choice of Windows 10, FreeDOS or Linpus Simple Linux with prices ranging from $449.99 (MSRP) to $699.99 (MSRP). They come with a limited one-year parts and labor warranty.(2)
About Acer
Established in 1976, Acer is a hardware + software + services company dedicated to the research, design, marketing, sale, and support of innovative products that enhance people's lives. Acer's product offerings include PCs, displays, projectors, servers, tablets, smartphones and wearables. It is also developing cloud solutions to bring together the Internet of Things. Acer is celebrating its 40th anniversary in 2016 and is one of the world's top 5 PC companies. It employs 7,000 people worldwide and has a presence in over 160 countries. Please visit http://www.acer.com for more information.
Media Contacts
Acer America Corp.
Erin Davern Tel: +949-471-7785 Email: erin.davern(at)acer.com
© 2016 Acer America Corp. All rights reserved. Acer and the Acer logo are registered trademarks of Acer Inc. Other trademarks, registered trademarks, and/or service marks, indicated or otherwise, are the property of their respective owners. All offers subject to change without notice or obligation and may not be available through all sales channels. Prices listed are manufacturer suggested retail prices and may vary by location. Applicable sales tax extra.
1.) The product is based on IEEE 802.11ac draft specification and multi-user scenario. Actual speed will vary based on range, connection rate, site conditions, size of network, and other factors. The claim of up to 3x faster transmission speed is valid only under scenario when wireless AP supports 4 MU streams. An 802.11ac wireless equipped PC requires an 802.11ac router to work properly."
2.) Accessible capacity varies; MB = 1 million bytes; GB = 1 billion bytes
3.) Limited warranty agreement applies. For a copy, write to Acer Customer Service, P.S. Box 6137