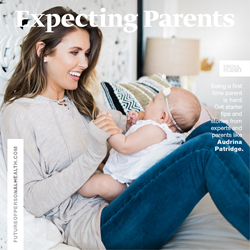 Expecting Parents educates readers on avoiding the number one cause of death in infants: preventable accidents
New York, NY (PRWEB) December 16, 2016
Mediaplanet announces the distribution of its most recent edition of "Expecting Parents," a celebration of bringing life into the world and the challenges new parents face.
"Expecting Parents" educates readers on avoiding the number one cause of death in infants: preventable accidents. The National Safety Council warns about both car and sleep safety. "Buy a new car seat whenever possible. Over time, car seats breakdown from regular wear and tear, changes in temperature, and how they are cleaned. If you borrow, you have to make sure the seat has not been involved in a crash, has all its original parts and labels, is not expired, and hasn't been recalled."
Among the campaign partners is MTV's "The Hills" Star, Blogger and new mom Audrina Patridge. Patridge recently gave birth to her first child with her husband Corey Bohan. Daughter Kirra Max was born in June 2016 via cesarean section — a procedure with which Audrina struggled. Baby Kirra was breech as Patridge approached her due date. "I did everything possible to try to get her to flip," she recalls, "everything from acupuncture to floating in a pool to doing hand stands. Nothing helped." The position of the baby forced doctors to deliver Kirra via C-section, against Patridge's original birth plan. As most women do, Patridge experienced a lot of pain and discomfort in the days after her C-section as well as while breastfeeding. But she says that just one look at little Kirra makes all the pain go away.
The Body Empowerment Campaign also highlights the endless amounts of consumer products available to new parents. Juliana and Samantha Geisler, founders of the Prego Expo, share tips on creating the perfect registry for a new baby. They suggest doing research on products by attending baby expos and free informational sessions at your local baby retail stores. They also encourage new parents to take their own needs into consideration when purchasing products. "Your lifestyle plays an important role when choosing which items you want for your registry. For example, if fitness plays a large role in your current lifestyle, you will want to choose a great jogging stroller." You can find the campaign online by clicking here.
The print component of "Expecting Parents" is distributed within USA Today in the New York, Washington DC, Baltimore, Dallas and San Francisco markets with a circulation of 250,000 copies to an estimated readership of 750,000. Its digital component is distributed nationally through a vast social media strategy, and across a network of top news sites and partner outlets. To explore the digital campaign, visit Mediaplanet's "Future of Personal Health" web page.
The campaign was made possible with the support of March of Dimes, Little Lotus Baby, InvoBio Science, Smith & Nephew, Dr. Errol Norowitz, Save the Cord Foundation, ViaCord, The Prego Expo, Carlos and Alexa PenaVega, National Safety Council, the CDC, and Illumina.
About Mediaplanet
Mediaplanet is the leading independent publisher of content marketing campaigns covering a variety of topics and industries such as Health, Education, Lifestyle, Business and Technology, and Corporate Social Responsibility. We turn consumer interest into action by providing readers with motivational editorial, pairing it with relevant advertisers and distributing it within top newspapers and online platforms around the world. Please visit http://www.mediaplanet.com for more on who we are and what we do.