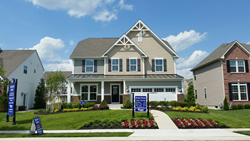 Glen Burnie, MD (PRWEB) December 21, 2016
Over the past four years, Creekside Village has sold a total of 504 homes, an average of at least 10 every month. With 820 homes planned in the community it is now 61% sold.
Continued Advancements
The fourth of five total phases was opened in 2016 which included some of the community's most anticipated homesites. Some of these homesites back to forest conversation while others back to large open spaces. All of the homesites in this phase will be in close proximity to the Creekside Village park with is expected to open in the spring of 2017.
During development, an archeological rock that had a cross chiseled in it was located. It is believed that this artifact was used as religious altar for slaves and free blacks in 1800s. The rock was relocated in 2016 to Hall United Methodist Church on Solley Road and Atapco Development is currently completing a monument to recognize it. To learn more here is a link to an article in the Capital Gazette.
The developers of Creekside Village also funded and managed much need road improvements in the area, specifically the intersection of Route 648 and Marley Neck Boulevard. This work has already resulted in significantly reduced traffic congestion.
Come and See Why We're North Arundel's Fastest Selling New Home Community.
Creekside Village is lovely pedestrian and pet-friendly community that offers one of a kind living on the Marley Neck peninsula! A serene setting with urban conveniences close by, Creekside Village offers resort-style living. Enjoy this thoughtfully designed community that puts work AND play close to home!
For more information, please visit http://www.creeksidevillagemd.com.