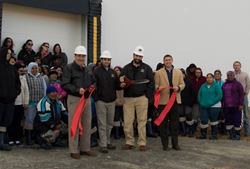 Clemmons, NC (PRWEB) December 16, 2016
On Thursday, December 15, 2016, at 12:30 p.m., Joyce Farms celebrated the completion of a 10,400 sq. ft. expansion to their USDA-inspected poultry processing plant with a ribbon-cutting ceremony. Mayor Nick Nelson of Clemmons attended the event, along with many Joyce Farms employees and friends.
The expansion adds 10,400 square feet of space to the company's previously 32,350-square-foot facility, located on Kinnamon Road off of 1-40. It includes a new warehouse of dry storage space for labels, packaging, and other materials, and a brand new, state-of-the-art hatchery that will greatly improve the company's capacity to incubate and hatch birds in their Heritage Poultry line. The hatchery will house three types of birds that are a part of the company's heritage line — the Poulet RougeTM chicken, which is an authentic Label Rouge chicken, the Pintade Fermiere, which is a French Guinea hen, and the Heritage White Pheasant.
Expanding the facility was necessary to accommodate growing demand among chefs for their specialty poultry, beef and game products. Consumer demand for home delivery of these products has also increased since the launch of a new e-commerce website in May, 2016.
President and CEO of Joyce Farms, Ron Joyce stated, "Over the last three years, we have seen increased demand for our pasture-raised heritage poultry, beef and game products. We're thrilled by the response and look forward to making Joyce Farms available to even more chefs, restaurant goers, and home cooks."
With the addition, Joyce Farms will retain the artisanal processes and strict quality control measures for which it is known. Birds will continue to be individually processed by hand from start to finish, allowing for precise inspection. The plant has consistently earned a 100% score in animal welfare by a third party auditing company.
The design and construction team for the expansion includes Landmark Builders, West & Stem Architects and Landwehrmann Engineering PLLC.
About Joyce Farms: Established in 1962, Joyce Farms is a third-generation, family owned business providing poultry, game and beef of the highest quality and flavor to chefs, butchers and consumers nationwide. Joyce Farms is best known for introducing old-world heritage poultry breeds to the U.S. In addition to their renowned Poulet Rouge Fermier™ chicken (GAP Step 4), Joyce Farms offers grass-fed Aberdeen Angus beef (GAP Step 4) and a naked line of chicken, duck, and rabbit all produced without the use of hormones, antibiotics, or animal by-products. For more information, visit http://www.joyce-farms.com.