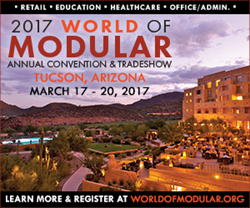 93% of 2016 World of Modular attendees said they are likely to participate in 2017!
Tucson, Arizona (PRWEB) December 20, 2016
The 34th Annual World of Modular will bring together hundreds of modular construction professionals on March 17-20, 2017 in Tucson, Arizona. For more than 30 years the Modular Building Institute (MBI) has provided professionals in the modular building industry a place to network, exchange ideas, learn from experts, discuss issues, display new products and receive well-deserved recognition.
The World of Modular is an open forum for anyone interested in the modular construction industry. For suppliers of building products, services, and financing, the MBI trade show remains the best place to reach manufacturers and dealers of modular buildings.
Top 10 Reasons to Attend World of Modular:
1. Interest in prefab and modular is at an all-time high. Even major traditional contractors are using it in their projects.
2. It's the largest industry event.
3. It's the longest running industry event – 30+ years.
4. Network with more than 700 builders, developers, contractors, architects, dealers and equipment/service suppliers.
5. Industry experts will be talking about hot topics like lean construction, the integration of offsite and site built, and more.
6. Markets include education, multi-family, hospitality, healthcare, components, government, workforce housing, and more.
7. Find out why "Greener, Faster, Smarter" isn't just a slogan.
8. It's always in a great location.
9. It's the best place for equipment and service suppliers to display products for the modular industry.
10. It's the place to be to learn about modular and prefab.
Still in doubt? Watch a short video and learn how to Maximize Your Experience at World of Modular!
See the exhibit hall, register, and more at http://www.worldofmodular.org!