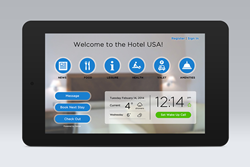 "Now when you book with Northeast Suites our guests will receive a text message with room check-in info, directions, and area information that is unparalleled in the temp housing industry."
Boston, MA (PRWEB) December 19, 2016
Northeast Suites is excited to announce a partnership with Zenya, a Quincy based hospitality mobile-app company specializing in enhancing guest communications and facilitating the check-in and checkout process.
"Zenya delivers a real-time communications solution to our guests that we are truly excited about" said Michelle Leonard, General Manager of Northeast Suites. "Now when you book with Northeast Suites our guests will receive a text message with room check-in info, directions, and area information that is unparalleled in the temp housing industry."
In addition to the arrival and check-out communications, guests can interact with the system from their mobile device to report service issues and guest feedback during their stay, providing yet another tool to ensure that our guests always have the ability to reach Northeast Suites' staff with as much ease as possible.
Northeast Suites Founder & CEO Patrick Flynn was present for the product demo in Stoneham, MA and was also impressed. "Watching my team interact with the Zenya portal during training, I saw the excitement on their faces at how streamlined the app made the process of communicating with our guests, and these days communications and customer service are one of the true defining ways you can set yourself apart from the competition" said Flynn.
Northeast Suites was looking to bring innovation & a new level of service to the corporate housing industry to serve their customers across multiple locations while keeping their existing workforce.
Zenya helps Northeast Suites in providing a higher level of customer experience during pre-arrival, in-house and post-stay by using automated messaging, real-time chat communication, and the mobile concierge for guests requests and distribute important local area information, so no guest ever feels alone in their new location. Also, Zenya's, task workflow and chat communication features helps bring speed, transparency, and accountability amongst the Northeast Suites staff, giving them the tools to deliver excellent customer service.
"We look forward to building a deeper partnership with Patrick and his team at Northeast suites. We believe that Zenya's solution can assist Northeast Suites scale to the new heights of customer satisfaction and growth" Jesal Sangani, CEO of Zenya.
For more information please visit http://www.NortheastSuites.com or call 888-323-3224
About Northeast Suites
Northeast Suites provides luxury furnished housing nationwide with a focus in the Northeast, offering corporate, temporary housing in apartments, condominiums, and houses for clients ranging from Fortune 500 companies to individuals in need of a hotel alternative for their short-term stay. Northeast Suites currently has an occupancy rate of ninety nine percent since its launch in March 2012, and works with hundreds of different properties and national property management companies throughout the country. They have formed strategic alliances with HR professionals at corporations in the biotech and software industries, medical institutions, media conglomerates, professional sports teams and traveling nurse companies. For more information, please visit http://www.northeastsuites.com.