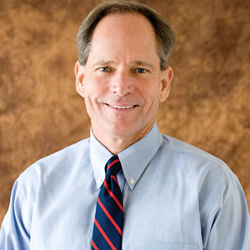 If you keep whacking a big rock, sooner or later, it will crack.
Tarrytown, New York (PRWEB) December 19, 2016
Christopher Maurer is a Houston attorney, well-respected certified financial planner, and a past treasurer of the largest Republican club in the city. He probably does not fit the public's image of an intactivist. But he is one of many under-the-radar advocates trying to change the public's opinion about circumcising baby boys. What's more, he believes his establishment ties show that intactivism has become an organized movement, and that it will eventually become a mainstream belief.
Mr. Maurer's intactivism is neither angry nor theatrical. As he explains, "I read there are four different roles to play in social activism. One role is the Rebel, who tends to get the most attention. Then there are the Reformers and Change Agents, the movers and shakers. But the role that best describes me is the Citizen, the guy next door who speaks out in order to change society for the better."
Intact America is gaining more and more support from people like Mr. Maurer. "Intactivism is rapidly approaching its tipping point, or the moment in time when the radical idea of keeping baby boys intact becomes a mainstream issue," explains Georganne Chapin, executive director of Intact America. "Chris is a dedicated and courageous individual who is encouraging adults to have serious and informed conversations about infant and child circumcisions."
It is because of Mr. Maurer's dedication and support that Intact America has named him Intactivist of the Month for December. While Mr. Maurer modestly downplays his contributions, Intact America says he does a great deal for the cause. His activities include:

Pushing to end Medicaid payments for infant circumcision in the state of Texas;
Becoming the first intactivist to exhibit at Houston's BIRTH Fair;
Talking about keeping baby boys intact on local television and radio;
Offering literature and DVDs to clients, colleagues, and friends when a new child or grandchild is expected;
Attending demonstrations outside medical conventions and institutions in New Orleans, Ohio, Houston, and Washington, DC;
Displaying an anti-circumcision bumper sticker on his car; and
Making recurring monthly donations to support Intact America's work.
"I THOUGHT I WAS THE ONLY ONE"
Mr. Maurer began thinking about circumcision at the precocious age of four during a visit to a public health clinic. He was there for an immunization, but as he sat in the waiting room, he heard a baby screaming, he recalls. He later learned that the baby was being circumcised. He remembers the baby's mother emerging from the exam room, tears streaming down her face, with her little boy wrapped in a blanket. He went into the exam room where the baby had just been circumcised and remembers the nurse wiping the counter.
While in college at the University of Wisconsin, he came across an article about circumcision. He remembers being stunned to learn that doctors actually cut off part of the penis shortly after birth. Thinking circumcision was so bizarre—similar to binding feet or putting hoops through a nose—he assumed that virtually no one was circumcised. He soon came to realize that everyone he knew had been subjected to the surgery, except for one high school football friend who is now a professor at the University of Iowa Medical School. "You think there must be something wrong with you because no one else apparently thinks the way you do about [circumcision]," he says.
But all that changed in 2009 when he saw Ms. Chapin speaking out against circumcision on MSNBC. "I said, 'Wow.' I always thought I was the only person who thinks this way," he says.
Ms. Chapin says that like Mr. Maurer, "Countless men and women have written, called, or spoken to me personally about what discovering Intact America has meant to them. Many are men who were circumcised as babies, and who realized as teens or adults that they had been robbed of their autonomy and a fully healthy sex life. They are profoundly grateful to have found a community where they are acknowledged and understood—where their voices are heard."
Mr. Maurer says he will keep trying to make a difference. "If you keep whacking a big rock, sooner or later, it will crack," he says. He points to the example of Ronald Reagan— who said the same thing for many years—before his ideas became mainstream. "Society has to change over time, which I think it will."
The father of a son and a daughter, both grown, Mr. Maurer says he did not circumcise his son. "He played basketball throughout grade school and high school, and was never teased in the locker room. Nor has he suffered any medical consequences cited by proponents of circumcision," Mr. Maurer says. "My son is 26 and intact, and he's still waiting for that first problem," he laughs.
ABOUT INTACT AMERICA
Intact America is the largest national advocacy group working to end involuntary circumcision in America, and to ensure a healthy sexual future for all people. Intact America is based in Tarrytown, New York. For more information, visit Intact America at http://www.intactamerica.org, on Facebook, and on Twitter.