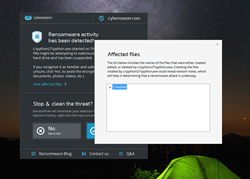 Ransomware is the biggest cyber threat facing companies and individuals in 2017, said Lior Div, co-founder and CEO, Cybereason
Boston, MA (PRWEB) December 19, 2016
Cybereason today launched RansomFree, the cyber security industry's first and only free anti-ransomware solution designed to detect and stop more than 99 percent of ransomware variants from encrypting files. RansomFree is unique technology designed to block never-before-seen ransomware in order to protect organizations against emerging ransomware threats.
RansomFree is the ideal anti-ransomware solution for small businesses such as law offices, police and fire departments, municipal governments, non-profit organizations, banks, doctors offices, schools and mom-and-pop shops. In addition to protecting the PC on which it is installed, RansomFree stops ransomware from encrypting network shared drives and is available for PCs running Windows 7, 8 and 10, Windows 2010 R2 and Windows 2008 R2.
RansomFree uses behavioral and proprietary deception techniques to target the core behaviors typical in ransomware attacks. Unlike traditional antivirus solutions, RansomFree does not rely on malware signatures, enabling it to target a broad variety of advanced ransomware strains, including fileless ransomware. Once RansomFree detects ransomware attempting to encrypt files, it immediately stops the process. To learn more about RansomFree and download the product, visit: https://ransomfree.cybereason.com/.
"Ransomware is the biggest cyber threat, causing significant financial and productivity losses to individuals and businesses. Cybereason's mission is to put an end to cyber crime. And in order to put an end to one of the most profitable cyber operations of the recent years - ransomware - we have to make it unprofitable for the criminals. That's why we are launching RansomFree: free, easy-to-install ransomware protection software, available for download for every individual and business that lacks the budget and skills to fight back," said Lior Div, co-founder and CEO, Cybereason.
Ransomware Will be the Single Biggest Cyber Threat in 2017
According to recently published research from Ostermann Research, nearly half of all businesses have experienced a ransomware attack in 2016. And 80 percent of the businesses attacked had high-value data held for ransom. In addition, the U.S. Justice Department's 2016 Report 'How to Protect Your Networks from Ransomware' stated that ransomware is the fastest growing malware threat, with more than 4,000 attacks occurring daily in 2016, a more than 300 percent increase since 2015. That number is likely to significantly increase in 2017.
"Pervasive ransomware variants such as Cerber, CryptoLocker, CryptoWall and Winlocker have outsmarted traditional endpoint defenses, such as antivirus software, leaving organizations exposed to the real danger of file loss. The vast majority of individuals, small businesses and other organizations threatened by ransomware attacks have little recourse but to either pay the ransom or lose their files and valuable time and money recovering files from backups," said Uri Sternfeld, senior security researcher, Cybereason.
How Can Individuals and Businesses Combat Ransomware Attacks?
A number of practical and preventative steps can be taken to protect against ransomware, including:
Regularly backup important files and verify that the backups can be restored.
Keep your operating system and browser up-to-date.
Remove Java and Flash plug-ins, as they tend to be vulnerable and often exploited by attackers.
Never download software from dubious websites.
Be cautious with email attachments and links. Do not open an attachment or click on a link that appears suspicious.
Use an anti-ransomware tool, like RansomFree.
Cybereason has received many awards and accolades since its founding. Recently, Cybereason topped a Gartner list of endpoint detection and response vendors. Juniper Research named Cybereason one of the Top Three Disruptive Innovators to watch in 2016. SC Magazine named Cybereason the 2016 'Rookie Security Company of the Year.' Also, CEO Lior Div was a 2016 EY Entrepreneur of the Year New England Finalist. In addition, Infosecurity Products Guide named Div '2016 CEO of the Year' and Computer Reseller News recognized Cybereason for having one of the 16 'hottest' products launched at Black Hat 2016. And Dark Reading named the company one of the '20 Cyber Security Startups to Watch in 2016.'
About Cybereason:
Founded by members of the Israeli intelligence agency's elite cybersecurity Unit 8200, the Cybereason platform mirrors the founders' expertise in managing some of world's most complex hacking operations. The Cybereason Detection and Response Platform leverages big data, behavioral analytics and machine learning to uncover, in real-time, complex cyber attacks designed to evade traditional defenses. It automates the investigation process, connects isolated malicious events and visually presents a full malicious operation. The platform is available as an on-premise solution or a cloud-based service. Cybereason is privately held and headquartered in Boston with offices in London, Tel Aviv and Tokyo.
For more information, please visit:
Website: http://www.cybereason.com
Twitter: http://www.twitter.com/Cybereason
Facebook: http://www.facebook.com/Cybereason
LinkedIn: http://www.linkedin.com/company/cybereason
Media Contact:
Bill Keeler
Director, Public Relations
Cybereason
bill.keeler(at)cybereason.com
(508) 414-7755 (cell)