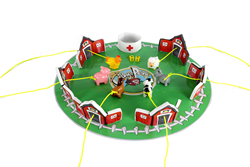 Everything about the game is top quality, and your family is going to be able to play it for hours on end.
Spanish Fork, Utah (PRWEB) December 18, 2016
The creators of Corky's Porkys, a new family board game, recently announced the launch of their Kickstarter campaign in order to raise money to fund the manufacturing of the product.
The board game, based off an old farmer's game, is centered around rolling a pair of dice in order to capture the other players' farm animals. The fast-paced game features six animals tied to individual tethers, and when "Farmer Corky" rolls either a 7 or 11 on the dice, the other players yank their animals back before the farmer catches them in a cowboy hat. The game is won when a player has collected one of every other player's animals.
Corky's Porkys creator and founder Colt Sampson said the inspiration to make the game was to help young kids learn quick math skills and get everyone off their phones and tablets to bring them together. Furthermore, as a result of the counting aspect and hands on gameplay, teachers have also looked into ordering this game to use in their classroom.
"The end goal of this campaign is to get this into every family's home," Sampson said. "Everything about the game is top quality, and your family is going to be able to play it for hours on end."
Corky's Porkys is intended for all ages and can be played by two to six players. The game also features several other rules, including different actions for various dice combinations, a veterinarian corner to simulate a jail area seen in other popular board games, and Barn Battle cards which trigger events throughout the game.
Sampson's goal with the Corky's Porkys Kickstarter campaign is to reach their $20,000 donation amount before January 14, 2017. The game has also recently been featured on Backer Club, a crowdfunding site for serious crowdfunding backers.
About Corky's Porkys
Corky's Porkys is old lost farmer's game resurrected into a board game for the whole family. A fast-paced skill game, Corky's Porkys invites players of all ages to test their counting skills and reflexes in order to capture all the farm animals before your friends and family capture yours. The goal of Corky's Porkys is to teach young kids quick counting skills while bringing families together for hours of fun together.