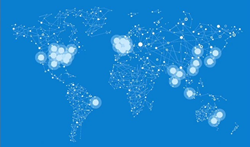 With Azure, Microsoft has created a universal cloud platform for businesses of all sizes.
Hoboken, New Jersey ­ (PRWEB) December 20, 2016
eMazzanti Technologies, a NYC area IT consultant and managed services provider (MSP), clarifies the product extolled in TV and online ads as 'The Microsoft Cloud' in a new article on the company's website. The informative article explains the breadth, depth and power of Microsoft Azure, the technology giant's signature cloud services offering.
Considering the confusion they have encountered among business leaders and IT professionals alike, eMazzanti's cloud experts have assembled material from a variety of sources to paint a clearer picture of the broad collection cloud services known as Microsoft Azure.
"With Azure, Microsoft has created a universal cloud platform for businesses of all sizes," stated Mark Clawson, Cloud Services Manager, eMazzanti Technologies. "Scalable and secure managed cloud services based on Azure free up key personnel to focus on revenue generating initiatives."
Below are excerpts from the article "What is Microsoft Azure and Who is it for?"
"Azure was announced in October 2008 and released on February 2010 as Windows Azure, before being renamed to Microsoft Azure in March 2014. Azure is a cloud computing platform plus infrastructure created by Microsoft for building, deploying, and managing applications and services through a global network of Microsoft-managed data centers."
"Using Azure, businesses, and their partners, can rapidly build, deploy, and host solutions across a worldwide network and create hybrid solutions which seamlessly integrate on premise existing IT with Azure. Many leverage Azure to protect data and meet privacy standards like the new international cloud privacy standard, ISO 27018, or HIPAA. Azure customers quickly scale infrastructure up and, just importantly, down, while only paying for what they use."
eMazzanti and Azure
Having concluded its participation in the Microsoft Azure Mentor Program (AMP), and with the addition of Azure expertise at our Bellevue, Washington office, eMazzanti Technologies has deep Azure training and experience. The exclusive Microsoft Azure program provided access to the right people, helping eMazzanti build relationships with key support personnel.
The AMP training enables eMazzanti to provide higher level services to customers, affording the company a competitive advantage in the cloud space. In connection with the AMP, eMazzanti has earned the Microsoft Gold Cloud Platform Competency. Learn more about eMazzanti's Azure cloud services.
Related resources:
eMazzanti Technologies Grows Azure Cloud Business 60X in 12 Months
Cloud Services Power eMazzanti to 7th Consecutive Ranking on Inc. 5000 List
About eMazzanti Technologies
eMazzanti's team of trained, certified IT experts rapidly deliver cloud and mobile solutions, multi-site implementations, 24×7 outsourced network management, remote monitoring and support to increase productivity, data security and revenue growth for clients ranging from professional services firms to high-end global retailers.
eMazzanti has made the Inc. 5000 list seven years running, is a 2015, 2013 and 2012 Microsoft Partner of the Year, a 5X WatchGuard Partner of the Year and one of the TOP 200 U.S. Microsoft Partners. Contact: 1-866-362-9926, info@emazzanti.net or http://www.emazzanti.net Twitter: @emazzanti Facebook: Facebook.com/emazzantitechnologies.