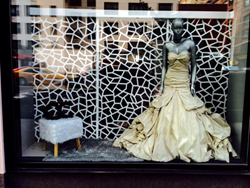 They are the best dry cleaners I have ever used! Every piece is handled with care and is returned in pristine condition.
New York, NY (PRWEB) December 20, 2016
Cameo Cleaners, New York's premier couture dry cleaner and garment care services, is celebrating its recently opened stylish location in Gramercy Park. The company has also launched a new website in 2016, cameocleaners.com. Cameo Cleaners, which counts some of the world's best-known fashion design houses among its clientele, has elevated its physical space to match the quality of its service.
"The people we work with understand that we take their garment care seriously, that we're doing more than just cleaning a dress," said a spokesperson for the company. "For our clients, garments are part of their image. They have relationships with their garments. And, if nothing else, we're often dealing with quite expensive clothing – you take a $2,500 dress to a conventional cleaner at your own peril. As per our customers, we really do offer the best service in New York City."
Cameo Cleaners' new flagship store at 280 Third Avenue (near 22rd Street) offers clients tasteful waiting areas and spacious dressing rooms. The new website features an intuitive, fluid user interface and high-end fashion photography. The site provides an elegant visual showcase for the company's services of dry cleaning, fur care, bridal, garment storage and more. It is a facility capable of doing almost any type of cleaning, ranging from full beaded gowns that need to be done completely by hand or a leather piece that needs to be restored.
The company has been in business continuously since 1958, working with such world-famous customers as the Metropolitan Opera, Fashion Institute of Technology (FIT) and the Cooper Hewitt Museum. They have offered free pickup and delivery for over 56 years. Other services include care of accessories and handbags, fur glazing, garment restoration, cleaning of delicate interior fabrics such as curtains and Oriental rugs, bed linens and tablecloths.
For more information, visit http://cameocleaners.com.
Cameo Cleaners
280 Third Ave
New York, NY, 10010, USA
+1 (212) 677-3949