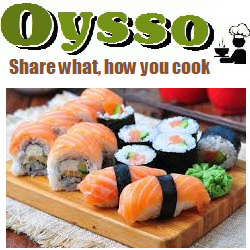 (PRWEB) December 21, 2016
Oysso.com is introducing a free virtual recipe book for home cooks and chefs looking to exchange recipes with people from all walks of life. The new website is completely mobile compatible; photos and text captions can all be uploaded from your cell phone without downloading an additional app.
Posting a recipe on Oysso is simple with a step-by-step process. Images can be posted with every step the recipe, clarifying how a dish should look during each stage of the cooking process. When a photo is uploaded to Oysso, an HTML 5 web-based function simultaneously uploads the image to its servers, making the process easier for mobile users.
The website opens up conversation with a forum-like layout, allowing users to post images of their cooking results following the recipe of their choice. Comments can also be added to each recipe hosted on the site. This allows chefs to have the ability to grow and improve upon their palettes.
Sharing personal recipes through social media has become easier as well. When users create their account, their account page comes with a personalized URL, which can be shared on any social media page. Each recipe also comes with a unique URL.
Additionally, the website has a bookmarking feature; if a home cook wants to save a recipe for later, they can do so by clicking the "Add Recipes to my Page" link. This hosts the recipe to the user's personal page, allowing them to revisit the recipe later.
Click here to check out Oysso.com and create a free account.