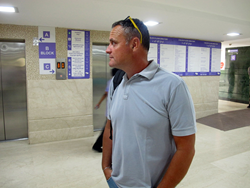 I managed to wrap up everything quickly on the very first day, went through the exams and bought my generic meds. The remaining two days were just like vacation.
United States (PRWEB) January 12, 2017
Arimedio, having already helped over one hundred Europeans access Hepatitis C treatment, announced their decision to start providing similar services to American patients.
"The cost of Hepatitis C medications remains today one of the major medical challenges of our society, and we strive to find an affordable solution for those who don't qualify for the treatment or cannot afford it," said Paolo Corciulo, CEO of Arimedio. "We believe that rationing the treatment and forcing a patient to wait to develop severe liver disease is unacceptable. We have already helped several Americans to get treated, and we see the need to expand our services to the U.S. despite pharmaceutical lobby."
In the U.S., a full Hepatitis C treatment course with branded medications costs around $100,000. This price is based on the perceived value of the treatment, which replaces the need for liver transplant, and not on the actual production costs. In India, a generic copy of the same drug costs one hundred times less. The license agreements signed by patent owners allow generic manufacturing but prohibit the sales of these generics to developed countries; however, purchasing required medication for personal use while traveling in India is completely legal.
"They were forced to lower the prices in India, or else nobody here could afford it," explains Dr. D.V. Srinivas, lead gastroenterologist in Hyderabad, India and a former Professor of Gastroenterology at Narayana Medical College. "But in order to buy a genuine medication, the patient needs a prescription from a licensed Indian hepatologist or gastroenterologist. In some backstreet pharmacies you may buy anything, no questions asked, but there's absolutely no certainty that it is an original product."
Stephen, a recent customer from 2016, recalls his treatment experience with Arimedio:
'If I had to summarize my experience, I'd say 'efficient organization'. I managed to wrap up everything quickly on the very first day, went through the exams and bought my generic meds. The remaining two days were just like vacation. I nearly forgot why I was there. The hotel was fantastic, the city tour quite nice. Everything went very smoothly and I had telephone support any time I needed it. On arrival back home, I started the treatment immediately. Did the first blood test after 24 days, and the virus was not detected! I just wish that getting rid of life-threatening illness was always that simple."
To book your visit, or for more information, visit http://www.cure-hepc.com.
ABOUT ARIMEDIO
Arimedio is a medical tour operator founded in Hyderabad, India.
Since April 2016, when Cure-HepC services were launched, the company has focused almost exclusively on organizing all-inclusive medical tours for hepatitis C treatment. In addition to providing accomodating services like flights and hotels reservations for their customers, Arimedio connects their patients to qualified hepatologists and certified pharmacists in the handpicked, most reliable Indian hospitals. A typical Cure-HepC tour only lasts a couple of days; all procedures are outpatient, and after a medical appointment the patients return to their home country with the medications they need.