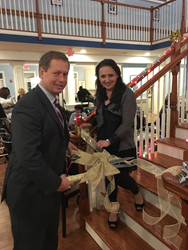 "We may not be able to cure the disease," says MMC Director Galina Markovich, "but we can significantly improve the quality of the daily lives of our residents."
Holmdel, NJ (PRWEB) December 20, 2016
Millennium Memory Care (MMC) has opened the doors of its newest Alzheimer's and dementia residential care facility at 92 Stillwell Road in Holmdel, New Jersey. Specializing in challenging and difficult cases that are typically rejected by most other facilities, this new residence will hold a unique position in New Jersey. Residents that exhibit aggressive behavior, tendency to wander, high risk of falls, resistance to care, shouting and cursing and a host of other issues will be welcome at this new home. The Holmdel residence features 16 private bedrooms, gardens and walking paths, onsite greenhouse and much more.
A Grand Opening and ribbon cutting ceremony was held on Wednesday December 14th, with Mayor Eric Hinds of Holmdel Township and area professionals from the dementia care community in attendance.
MMC has three other locations in New Jersey including Monroe, Matawan and Ocean. All facilities operate under the direction of dementia and Alzheimer's care specialist Galina Markovich, ANP, RN, whose vision of offering personally tailored care in small facilities has proven enormously effective.
Ms. Markovich says:
"For difficult and challenging cases, it is particularly relevant that the small and intimate nature of our homes allows us to offer a high care team member-to-resident ratio. This makes it possible for each care team member to get to know each resident on a personal level, and custom tailor their care programs to the needs of that resident. We are happy to accept patients that most other facilities refuse."
With only 16 beds and a warm and homelike atmosphere, MMC is a refreshing alternative to the giant, hundred-plus bed facilities that are often the only choice for this type of care. MMC takes a very holistic approach, creating programs tailored for the "whole" person, and incorporating knowledge and meaning from each individual's life story.
One family member who brought her loved one to MMC offered this testimonial:
"Alice (not her real name) was violent and could not interact with other residents. Now she is totally under control and much more sociable. Galina and the professionals at MMC will go to the ends of the earth to address a patients needs and communicate with the family."
Director Markovich believes that the main ingredients of MMC's formula for success are her extensive experience in dementia care and therapeutic home environments, the custom tailored holistic approach, and her expert, compassionate staff.
"We may not be able to cure the disease," she says, "but we can significantly improve the quality of the daily lives of our residents."
More information can be found on the Millennium Memory Care website at:
http://www.millenniummemorycare.com/
Contact:
Galina Markovich
Millennium Memory Care
info(at)millenniummemorycare.com
310 Buckelew Avenue
Monroe, New Jersey, 08831
(732) 361-2777
###