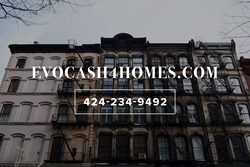 Los Angeles, CA (PRWEB) December 26, 2016
Selling a house takes time and patience, and can be especially overwhelming for first-time sellers. Evo's mission is "to make selling your house quick, easy, and straightforward." Here are some tips on what to do before selling that will make it as easy as possible.
1. Know the home's value. Online resources like Zillow and Trulia provide estimates based on sales comparable in size and location. Users can also peruse recent sales in the area to get an idea of the market. Keep in mind that listing prices can be misleading, so focus on actual sales. Also, realistically consider the cost of needed repairs and upgrades, as they deduct value. At least, a seller should have a general idea of the home's value before hearing estimates from an agent or potential buyer.
2. Be prepared with important documents. Selling a house involves a lot of paperwork, and overlooked technicalities can impede a smooth transaction. Check on the title status and check for owed taxes. Collect any information regarding ownership– the deed; relevant bank documents; a death certificate and will or an affidavit of heirship (if the property is in a deceased person's name); consent of all named owners (if ownership is shared); and any other paperwork that seems relevant.
3. Choose the right method. Depending on the circumstances, a seller can either hire a real estate agent or sell to a cash buyer like Evo. Selling through a real estate agent is appropriate for a seller who wants to maximize the home's value and can afford to wait a few months to complete the sale. Because real estate agents mostly focus on attracting residential buyers, the property should be in very good shape, or only require repairs and updates that the seller is willing to fulfill. Markets vary significantly, but anticipate that it will take weeks or months to find the right buyer, and another four to six weeks to close the sale.
Selling directly to an investor is a good idea for a seller whose property needs excessive repairs, or who needs to sell urgently for financial or timely reasons. Investors usually offer to buy as is, so they're less discriminatory than residential buyers. They're typically prepared to pay with cash or certified funds, or willing to take over an existing mortgage. Often, they're willing to compromise and cover fees that may arise (like closing costs or taxes). Not only does this mean an investor can rescue a homeowner from financial distress, but also that closing is expedited, as they aren't tied up by acquiring a loan. Because companies like Evo guarantee they'll make an offer on any property, a seller also doesn't have to wait for an interested party to bite, and the entire process can be complete within a week or two.
4. Tidy Up. It may seem obvious, but make an effort to clean up, regardless of actual repairs. A tidier home will automatically be more attractive to any potential buyer, and make the property seem better kept.
Visit Evo's new "We Buy Houses" site at http://www.evocash4homes.com for information.