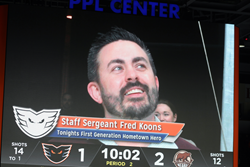 Allentown, PA (PRWEB) December 19, 2016
Tonight at the Lehigh Valley Phantoms game, First Generation was proud to honor one of our own heroes – Fred Koons III, now an Account Manager at First Generation and a Retired Staff Sergeant with the US Army who served three tours to Iraq & Afghanistan. Thinking he was there to honor another veteran, and with the cooperation of the LV Phantoms, First Generation was able to turn the tables on Fred. Not an easy task to pull off on someone who for many years was responsible for the welfare, fitness, morale, and discipline of management level Soldiers.
As an additional surprise, we had his family join us at the game – his parents, Lisa & Fred Koons of Allentown, his brother Leo, his wife Amy (Kostelnick) and their two children.
As a Service-Disabled Veteran-Owned Small Business there is nothing that makes us more proud than honoring an employee for their service of dedication to their country. Fred served as an Artillery Forward Observer, deployed with the 3rd Infantry Division, in the Triangle of Death south of Baghdad for 15 months. Fred returned to Iraq in 2010 for his second combat tour with the 3rd ID in 2010, and was stationed at the Al Asad Air Force Base in Iraq's Al Anbar province. Fred then transferred to the 10th Mountain division, and was deployed to Afghanistan 2013. Fred retired from the Army in 2014.
Fred attended elementary school at the Cathedral School in Allentown and graduated from Allentown Central Catholic High School in 2003. He attended Kutztown University before volunteering for the US Army at the height of "the surge" during the Iraq War in 2007.
After leaving the Army he completed his Bachelor's degree in Marketing at Columbia College. He is married to Amy, also of Allentown, and they have 2 children, Jaxson, age 4 and Emma, 5 months old. They reside in Orefield. Fred is employed as an Account Manager at First Generation where he works with his clients on their marketing and advertising projects.
Watch the video: https://vimeo.com/user19435101/review/196090906/2dc0ac6a11
About First Generation
Celebrating 30 years in business, First Generation defines, develops and delivers marketing campaigns for commercial business, non-profit organizations and the federal government. Services include strategic communications, integrated marketing and advertising, video production, interactive design and programming, event planning, web design, programming, instructional design and training, media relations and social media integration. A service-disabled veteran-owned small business (SDVOSB), First Generation also provides full-time on-site media consultants for several global organizations. First Generation is headquartered in Allentown, PA with offices in Washington, DC, and Vicenza, Italy. For more information, please visit http://www.firstgencom.com.