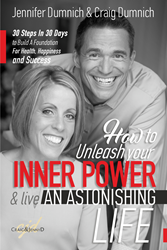 Taking The Overwhelm Out of Living a Healthy Lifestyle
Avondale, PA (PRWEB) December 20, 2016
The recently released book (December 2016) " How to Unleash Your Inner Power & Live an Astonishing Life" from powerhouse couple Craig and Jenny Dumnich now reveals exactly how to take the overwhelm out of achieving a healthy lifestyle.
Just like most people around the world, this hardworking dynamic couple have lived a "normal" life and experienced everything that came with it. They have not only seen but personally experienced the impact and results in terms of health, relationships, life and all round happiness. They realized that something needed to change for them to become the better version of themselves. This background created the foundation and drive to making sustainable lifestyle changes and they are now living a totally different life as a result. Their books explains the first 30 steps in making sustainable changes to living a healthy lifestyle.
Their belief that in order to be our best, people need to take responsibility for themselves and become empowered to make healthy sustainable lifestyle choices, is what will go a very long way in making a positive change in the world. It requires changes in mindset, self belief and sustainable action.
This book focuses on building a foundation of physical, nutritional and emotional empowerment to improve health, happiness and success. It's about finding self-love and achieving goals through practices of awareness, enjoyment and most of all sustainability.
Not only are the authors available to speak at public seminars on taking the overwhelm out of achieving a sustainable healthy lifestyle but they also make themselves available to speak at corporate meetings with a focus on increasing employee wellness and productivity through improvements in health, happiness and energy.
To take the support and guidance even further, with monthly membership programs and workshops as well as valuable information, please visit http://www.craigandjennyd.com.
Craig Dumnich has always been an unwavering optimist, focusing on being the best version of himself. Throughout his corporate career as a sales professional in Financial Services he has traveled the globe presenting to audiences large and small, been driven by results and a passion for excellence. Through these travels and spending time at home with his wife and five children he has learned some of the most simple and precious ways to maintain health and balancing his life. He says, in a world where we feel overwhelmed in every aspect of our lives, the key to being extraordinary is to make gradual, sustainable changes that last a lifetime.
Jenny Dumnich has always understood first-hand after years as a corporate business traveler and studying wellness, what it takes to find and maintain health and balance. As a busy wife, mother of five and business owner, she knows how it feels to be overwhelmed in every aspect of your life. Her mission is to share the secrets to becoming extraordinary by taking overwhelm out of wellness and teaching gradual, sustainable changes that last a lifetime. By focusing on awareness, enjoyment and sustainability, the mind and body can perform at their best.
For Further Information please contact: empowered(at)craigandjennyd(dot)com