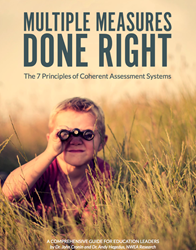 Portland, OR (PRWEB) December 19, 2016
With the new ESSA regulations requiring accountability systems based on multiple measures, a new guide from researchers at the not-for-profit NWEA provides educators with actionable steps they can begin implementing immediately. "Multiple Measures Done Right" outlines the seven principles of developing coherent assessment systems that go beyond compliance to support student learning. The guide was authored by assessment experts Drs. John Cronin and Andy Hegedus, both of whom serve on the NWEA research team.
The guide helps educators regain control of the assessment process so that it serves the needs of multiple stakeholders – students, teachers, parents, and administrators – with accurate and actionable data, and puts student learning in the center of the system.
The seven principles include:
1. Defining the purposes assessment has in your school or district
2. Educating teachers and staff in assessment literacy so that everyone in the process can best use the information
3. Aligning results to the needs of each stakeholder
4. Creating efficiency by fine tuning the instruments used
5. Delivering assessment results in a timely, useful manner
6. Using metrics to focus on all learners
7. Building transparency into the system
In addition to the principles, the guide outlines practical action steps, and offers insights from educators who lead this change.
"We have helped many districts determine how to use their assessments and assessment data for the greatest benefit to students," said Raymond Yeagley, NWEA Chief Academic Officer and a former superintendent of schools. "They often start with an audit of their current assessment plan, but we have found that beginning by defining their teaching and learning approach can provide much greater insight into the usefulness of those assessments. Given states and districts have greater flexibility under ESSA, our researchers felt an urgency to share this information with a wider audience, so that more people can benefit from it."
In an associated on-demand webinar, Dr. Cronin provides additional insight into the principles based on his extensive work with districts nationwide. The guide is available for download here.
About NWEA
NWEA is a global not-for-profit educational services organization with nearly 40 years of expertise in providing innovative assessment solutions, including our flagship interim growth assessment, Measures of Academic Progress (MAP); our progress monitoring and skills mastery tool, Skills Navigator; and the OECD Test for Schools (based on PISA). More than 8,500 schools, school districts, and education agencies in the US and abroad trust us to offer pre-K – 12 assessments that accurately measure student growth and inform instruction; professional development that fosters educators' ability to accelerate student learning; and research that supports assessment validity and data interpretation. Educators currently use NWEA assessments with over nine million students worldwide. Visit NWEA.org to find out how NWEA can partner with you to help all kids learn.
###