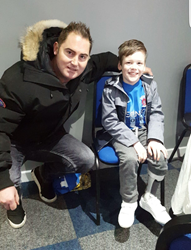 Cosmetic surgery for my girlfriend, or help a child to walk?
Hartlepool, County Durham (PRWEB UK) 21 December 2016
A leading Leeds entrepreneur has shared his dilemma of choosing between helping a disabled child to walk or giving his girlfriend money for cosmetic surgery.
In a blog post, Matt Haycox, a consultant for Access Commercial Funding, which helps businesses secure finance for growth, recalls a surreal moment he had when he was travelling to a game at Hartlepool FC, who he has been advising on their funding.
He says, 'I got a call from my girlfriend demanding money for more cosmetic surgery. Then, at the game, I found myself sitting next to a family wearing t-shirts saying "help Alfie walk", so I went over to find out what it was about. I got chatting to Annmarie Stalley who told me she had set up a crowd funding campaign on Justgiving.com for her 9 year old son who needs life-changing surgery.'
It transpired the Stalley family are running a crowd funding campaign to raise a total of £50,000 to help Alfie, who was diagnosed with cerebral palsy at 16 months old, walk unaided for the first time.
Alfie has had intensive private physiotherapy every few days for his whole life, and a couple months ago a specialist surgeon told his family he was able to have surgery.
Matt Haycox says: 'All Annmarie's hopes are pinned on a pioneering operation called Selective Dorsal Rhizotomy (SDR) which is proven to help children walk again. But Alfie has to have the operation before June next year, or his condition will have degenerated too far.'
It was at this moment that Matt Haycox was presented with the predicament 'Cosmetic surgery for my girlfriend, or help a child walk?'
Happily, Haycox decided to do both.
Unfortunately the surgery Alfie needs is not available on the NHS, so Alfie needs help to raise around £50k to pay for this treatment (and 2 years aftercare).
The donations are currently at £6k and Matt Haycox has pledged to match all donations towards Alfie's surgery, pound for pound.
Matt also decided to make his girlfriend's wishes come true too. He says: 'I called my girlfriend back and told her of course I'll pay for whatever it is that she wants – although for the record, I think she is perfect as she is and I don't think she needs anything done at all.'
Read Matt's blog post at http://www.matt-haycox.com
Please help Alfie walk again by donating a small amount of money to his JustGiving page here https://www.justgiving.com/crowdfunding/helpalfiewalk