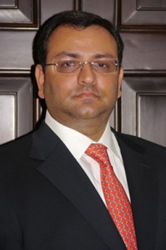 I feelt proper corporate governance should not be an aspiration, but rather, it should be our standard of practice
Mumbia, India (PRWEB) December 19, 2016
On Friday December 16, 2016, Former Chairman for the Indian conglomerate Tata Sons Mr. Cyrus Mistry officially announced the formation of the Corporate Governance Initiative. Given the State of Affairs in Tata Sons, Mr. Mistry felt the need to form an organization of professionals and corporate executives to work towards proper corporate governance. "As Chairman, I felt proper corporate governance should not be an aspiration, but rather, it should be our standard of practice".
Mr Mistry's announcement following the October 24 Tata Sons boardroom coup that removed Mistry as chairman and also introduced resolutions for consideration by the Tata Chemicals and Tata Steel Extraordinary General Meetings to remove Mr. Wadia as an independent director, accusing him of acting in concert with Mr. Mistry and galvanizing other independent directors.
Recent articles in the New York Times and The Hill display the current disarray and public lack of confidence in Tata Sons which strongly suggests that this is an initiative that definitely must occur, Mr. Mistry went on to say "The brands we represent are not just within our country, but International brands; I feel that businessmen and shareholders from around the world should come together and support the proper corporate governance not only in our company but other institutions as well".
Tata Sons Limited is the holding company of the Tata Group the holding company for the $103 billion Tata Empire and one of the largest conglomerates in India owning brand names such as Land Rover Jaguar to include partnerships with Starbucks and other large international companies. When asked what he felt this initiative could accomplish in the short term, Mr. Mistry said, "I will work on protecting the interests of the Tata group and realizing the vision of our founder until my last breath. I feel I must do everything in my power to speak for the minority shareholders and fight against a pay to play corporate mentality and for proper corporate governance".
Mr Mistry and his cause have been receiving positive response from Indian media outlets as the organization has been active over the past several weeks using social media to help spread its message rapidly even trending on Twitter and Facebook using hashtags such as #Cyrusforgovernance and #CorporateGovernance
Currently in India there are several programs being initiated by the government in support of proper corporate governance, Mr. Mistry says "I applaud their efforts, but I think that we can do more together. I believe this something we must work towards and remove the corporate cronyism which seems to be rampant in our current system of business".
As one of the first orders of business, The Corporate Governance Initiative has begun reaching out to US companies and executives to join the movement by using their influence and interests in Indian based companies to review and question current practices.
Mr. Mistry concluded by saying "In Tata Code of Conduct, the Code says: "We will be fair, honest, transparent and ethical in our conduct; everything we do must stand the test of public scrutiny." The Corporate Governance Initiative will help to one day achieve that goal, because as of today, we are not there".
About Us
The Corporate Governance Initiative is committed to assisting organizations adhere to a system of guidelines, practices and procedures by which a company is directed and controlled. The Corporate Governance Initiative will also help companies create policies to find balance between the interests of a company's many stakeholders, such as shareholders, management, patrons, providers, investors, government and the public.