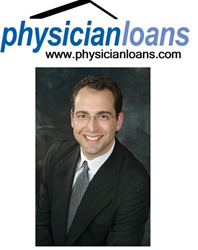 Doctors, especially medical students and residents are always on the go, so we embrace technology that makes the mortgage loan process easier and more secure
Columbus, Ohio (PRWEB) December 20, 2016
PhysicianLoans – the premier provider of home mortgage loans for medical professionals today announced its implementation of Citrix ShareFile, the leading secure file sync and share system. The service assures doctors and medical professionals working to obtain a home mortgage through PhysicianLoans that their personal information is being transferred and received with bank-level security.
ShareFile gives users a secure way to send and receive documents in a method that supports the security and privacy that physicians have come to expect. Privacy and security concerns have been at their peak for the past couple of years and those concerns remain top-of-mind for physicians as they deal with HIPAA-related issues of health data. Security of their own personal financial data is equally, if not more of a concern for these homebuyers in the medical field.
"The origination and process of a mortgage loan involves a lot of information," said Keith Lowry, PhysicianLoans Information Technology Manager. "Keeping that information secure while providing a seamless process for the borrower is paramount for our company and the ShareFile service ensures that level of security."
ShareFile offers bank level encryption for files of all sizes and the company prides itself on that as well as a dashboard environment that is simple to use. "As consumers, we've come to expect a certain level of security in our financial dealings with businesses," explained Nathan Spilker, vice president, Cloud Services at Citrix. "With PhysicianLoans selecting ShareFile as their sync and share service of choice, it demonstrates the company's determination to provide the most secure environment for client information and documentation."
Tal Frank, president of PhysicianLoans also welcomed the mobile capabilities of the ShareFile system. "Doctors, especially medical students and residents are always on the go, so we embrace technology that makes the mortgage loan process easier and more secure."
About PhysicianLoans
Since 1993, PhysicianLoans, a division of Tower Mortgage Corporation, has focused exclusively on providing home mortgage loans to medical professionals. Located in Columbus, Ohio, PhysicianLoans is known for its unique, flagship product The Doctor Loan, which is offered to medical doctors, dentists and veterinarians, many who find themselves laden with heavy student loan debt that often prohibits obtaining a conventional mortgage loan. For more information about PhysicianLoans, please visit http://www.physicianloans.com.