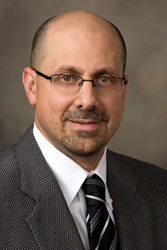 'It has been an honor to help so many patients during [the past 20 years]. At the same time, I have loved making Savannah the home of my practice, as well as the home of my family — in the best country in the world.' — Dr. Nizar S. Eskandar
Savannah, Ga. (PRWEB) December 21, 2016
Dr. Nizar S. Eskandar, who founded and runs the Nephrology Department at SouthCoast Health and who also is board-certified in critical care medicine, is celebrating 20 years since he began his residency in the United States.
Dr. Eskandar, who earned his medical degree at Damascus University School of Medicine in Syria, where he was born and raised, came to the United States with $2,000 in his pockets and the dream of practicing medicine. In 1996, after passing the necessary exams for foreign doctors seeking to practice in the United States, he began his residency at Providence Hospital in Detroit.
"My first preference was to come to the United States because it is the land of opportunity — no doubt," Dr. Eskandar said. "I did it. I lived it. I came with only an education and hard work and I made it."
Dr. Eskandar began the immigration process by working for five years in areas that the U.S. government considers under-served in terms of access to healthcare. That is what brought him to the Coastal Empire, as he practiced in Liberty County, which is home to SouthCoast's office in Hinesville.
Dr. Eskandar left the area to continue his education in critical care medicine in Rochester, N.Y., and then performed a fellowship in nephrology at the University of Virginia in Charlottesville. When it came time to practice, he returned to Savannah and has remained at SouthCoast ever since.
"Practicing medicine at SouthCoast and experiencing the growth of my personal practice in step with that of the rapid growth of SouthCoast as a whole has proved a truly gratifying experience," Dr. Eskandar said. "The 20 years since I began my residency has gone by so fast that it is almost hard to comprehend. It has been an honor to help so many patients during that time. At the same time, I have loved making Savannah the home of my practice, as well as the home of my family — in the best country in the world."
Dr. Eskandar and his wife Margarita have two children, Nicholas and Grace.
SouthCoast Health is a multi-specialty, physician-owned medical group with more than 120 healthcare professionals and 18 locations. The organization has been providing quality healthcare solutions to the Coastal Empire and Lowcountry for more than 20 years and is dedicated to complete patient wellbeing. For more information, visit http://www.SouthCoast-Health.com and connect with SouthCoast Health on Facebook.