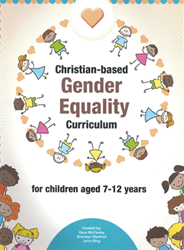 If we want to see change in the future, we need to begin teaching our children correctly now.
Minneapolis, MN (PRWEB) December 22, 2016
Christians for Biblical Equality (CBE) is pleased to announce that it will be distributing a new curriculum on faith and gender equality for children.
"Christian-based Gender Equality Curriculum" is intended for children ages 7-12 and was created and published by CBE-South Africa leader and Rhema Bible Church pastor Xana McCauley, along with Bronwen Stanford and Jenni Ring.
The curriculum is was birthed by McCauley's passion to educate the church on gender equality. The authors write that "if we want to see change in the future, we need to begin teaching our children correctly now. It is essential to model the message of gender equality at an early age when children are forming their initial ideas about gender so that they won't need to deal with gender inequalities experienced today."
First published in 2015, the curriculum has been used successfully in South Africa. Now, CBE is partnering with McCauley to bring the curriculum to US consumers.
This is the latest in a string of joint efforts between CBE and McCauley, according to CBE's president, Dr. Mimi Haddad. "2016 has been a banner year for our international partnerships, and we have our South African partners thank for much of that momentum" says Haddad. "We were pleased to collaborate with Xana and Rhema Bible Church for a major conference 'Truth be Told: Speaking out against Gender Based Violence' and to distribute around 5,000 copies of CBE's books and journals. Out of this have grown even more partnerships in southern and eastern Africa. And now, we are delighted to be distributing this South African curriculum to Christians in the United States."
The curriculum is available for sale through CBE's online bookstore, and includes 10 lessons, which "purposefully focus on God's original plan for humanity; not a hierarchical plan but one of mutual submission and love. It emphasizes God's choosing of both male and female to fulfill his will and purposes. The curriculum aims at debunking biblical gender stereotyping."
In its effort to advance a biblical foundation for gift-based rather than gender-based ministry and service, CBE sponsors annual conferences, facilitates local chapters, hosts an online bookstore, and publishes two award-winning journals. For more information, visit http://www.cbeinternational.org.