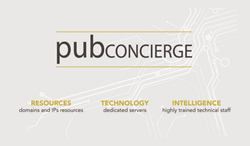 pubConcierge is a great company to work with. They take time to understand our needs and put their best effort in fulfilling those needs. Service is prompt and reliable! Charles N. - Marketing And Advertising
Las Vegas, Nevada (PRWEB) January 04, 2017
The highly expected event in the Email Marketing community, The Mailer Meetup, brings together mailers from around the world on January 15, 2017, in Las Vegas.
In a relaxed and entertaining environment, The Mailer Meetup sets the stage for a perfect networking event with high profile guests. The private event is specially created only for active mailers which ensures exclusive attendance from the most influential people in the industry.
The Mailer Meetup takes place at Affiliate Summit West 2017 in Paris Las Vegas Hotel. With a rich history in the Email Marketing field, it is designed to help publishers, marketers and affiliates discover new opportunities and the latest trends in performance marketing and advertising.
pubConcierge is proud to be again amongst the sponsors of Mailer Meetup, an event with such influence in the industry where mailers get the chance to make new connections in a private and entertaining setting.
Meet the pubConcierge team at the Mailer Meetup on Sunday, January 15, 2017, from 6:00PM to 9:00PM in Las Vegas.
Don't miss the chance to discover opportunities that can change your future. We're bringing the latest tips and news to help you make way in a new digital era and we never hesitate when it comes to helping businesses grow.
About pubConcierge
pubConcierge delivers technical resources for online publishers who need to concentrate on growing their businesses rather than solving technical difficulties. pubConcierge offers solutions for online publishers around the world, and provides the tools, resources, and services to enable businesses to reach their goals and set new milestones in their growth.
This is an opportunity to take part in educational sessions, meet with our team and learn how you can develop in the right direction.
Marketing Team
Email: press(at)pubconcierge(dot)com
Phone: 775.2000.994
Web: http://www.pubconcierge.com