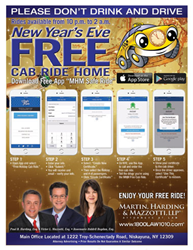 The program started because we witnessed first-hand the devastation caused when people make the decision to drink and drive. - Managing Partner, Paul B. Harding
Albany Capital Region, Utica, Plattsburg, NY, Springfield, MA and Burlington, VT (PRWEB) December 21, 2016
For nearly 20 years, the personal injury attorneys of Martin, Harding & Mazzotti, LLP have offered their 'Free Cab Ride Home' program on major celebratory holidays – where those who may have had too much to drink can use Martin, Harding & Mazzotti, LLP's mobile app for a safe cab ride home at no charge to the rider. This community event is offered in the Capital District, Amsterdam, and Utica, New York areas; Burlington, Vermont and Springfield, Massachusetts, and has provided several thousand safe rides home since its onset. The program was conceived as a way for the law firm of Martin, Harding & Mazzotti to keep communities safe by helping to reduce drinking and driving on New Years' Eve, among other times throughout the year.
New Year's Eve celebrators can use their mobile phones to download the "Free Cab Ride Home" app; now available on iPhone and Android. The app connects the user with the touch of a button and generates an electronic certificate which should be shown to the cab driver upon arrival. To arrange a safe ride home, call 1-800-LAW-1010 (800-529-1010) between 10 PM and 2 AM for a taxi home.
Alcohol-impaired driving causes approximately 30 deaths every day. Major holidays, like New Year's Eve in particular, exponentially heighten the risk of drunk driving. By offering complementary cab rides home with "no questions asked," Martin Harding & Mazzotti, LLP and partner businesses have a positive impact on the community. "The program started because we witnessed first-hand the devastation that is caused when people make the decision to drink and drive. We wanted to give them a safe ride home so they would make a better choice by not putting themselves or the community at risk," says Managing Partner, Paul B. Harding.
For more information on how to become a Free Cab Ride Home program partner with Martin Harding and Mazzotti, LLP email clark.supley@1800LAW1010.com, or watch this informational video.
About Martin, Harding and Mazzotti, LLP
Martin, Harding & Mazzotti, LLP® is a law firm whose practice is limited to protecting the rights of those wrongfully injured as a result of negligence. If you or someone you know has been injured, call us toll-free at 1.800.LAW.1010 (1-800-529-1010). Based in Albany, NY, the law firm has a storied history of actively engaging their community, including The Legal Project, an organization in which Paul Harding has taken an active role. The Legal Project is a private, non-profit organization, which provides a variety of legal services to the working poor, victims of domestic violence and other under-served individuals in the Capital Region at little to no charge.
###