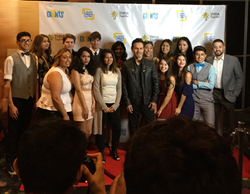 All of students were involved and collaborative throughout the project. It was a learning experience and my favorite part of this film was being able to express creativity.
West Covina, CA (PRWEB) December 20, 2016
THINK Together students unleashed their movie talents on Wednesday, December 13, 2016 as they partnered with the student film company, Unleashing Giants, where students were taught how to write, direct, create and produce their student films.
Unleashing Giants is an organization that develops and presents exceptional, one-of-a-kind project-based learning programs that enables its participants to discover, nurture, and celebrate their innate abilities in order to release and feed the remarkable power and strength currently unlocked within each student in order to make the world a better place.
Unleashing Giants partnered with THINK Together programs at Bassett High School, Madrid Middle School and Kranz Intermediate School for eight weeks to engage over 40 students in a unique and powerful experience named, Lights! Camera! Future!, where all students actively participated in all aspects of film production. Each site wrote scripts, acted, directed and produced a quality short film that reflected their voices and interests.
The culmination of the students' hard work took place at a red carpet event, where students could walk the red carpet, get their pictures taken and be interviewed on their experience and roles in the film, and see their hard work on the big screen.
All three films: Acceptance, Before and Now at Kranz, and Unheard Voices had inspiring messaging of acceptance and speaking out against bullying at schools. The students used their talents to inspire the audience of over 100 friends and family members and distinguished school district guests to demonstrate how challenging relationships can be on an every day basis during the school day and their words resonated with everyone in attendance.
"It felt so good to see my written words on screen," said one of the student's from Bassett High School. "I feel that the experience was great, since all of students were involved and collaborative throughout the project. It was a learning experience and my favorite part of this film was being able to express creativity."
Each student director introduced their film and thanked the THINK Together and Unleashing Giants teams who helped support them through this exciting opportunity.
"These schools are so blessed to have the THINK Together program. These student films are a culmination of exciting learning and expanded horizons," says Emil Pinnock, Founder and CEO of Unleashing Giants.
To learn more about Unleashing Giants visit unleashinggiants.com
To view the student films, visit:
Before and Now at Kranz - Kranz Int.: https://www.youtube.com/watch?v=1wQ0_cg9bbk&feature=youtu.be
Unheard Voices- Madrid MS - https://www.youtube.com/watch?feature=youtu.be&v=DIxMGgdX85I&app=desktop
Acceptance- Bassett HS - https://www.youtube.com/watch?v=No-jDZDRW9g&feature=youtu.be
THINK Together
THINK Together is a nonprofit organization collaborating with communities, parents, teachers, administrators and other stakeholders to help transform and galvanize the K-12 educational system, creating excellence and equity for all kids. THINK Together is California's largest provider of Expanded Learning Time programs. Through its affiliate, Principal's Exchange, THINK Together also provides research, professional development and consulting to underserved schools. Combined, THINK Together and Principal's Exchange serve over 130,000 students at 451 locations across 45 school districts from San Diego to San Mateo counties. Partnering with school administrators and teachers, THINK Together's dedicated team of more than 2,500 employees are helping students statewide reach their full potential. THINK is an acronym: Teaching, Helping, Inspiring & Nurturing Kids. For more information, call 888.485.THINK or visit THINKtogether.org or Facebook.com/THINKTogether.