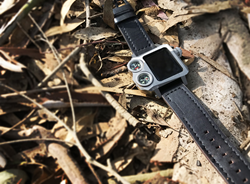 Los Angeles, CA (PRWEB) December 21, 2016
MTM Special Ops Watches recently launched their first Kickstarter in hopes of gaining valuable feedback and insight in order to develop a viable and popular form of protection for the beloved Apple Watch. As a forward thinking project, MTM has decided to reveal MTM Status™, as the best form of Apple Watch protection currently available, and looks forward to its initial response, appeal and/or criticism. MTM believes that it is in the best interest of Apple Watch wearers, and all avid smart watch fans, to bring an added level of security to their expensive and fragile device.
MTM Status™ Apple Watch Protection features an unprecedented Aluminum or Titanium case made from military-grade material. MTM Special Ops is world-renowned for their ability to manufacture and design the best and toughest military watches available worldwide and has transferred those core concepts to this product.
The Apple Watch is very susceptible to damage caused by normal wear and tear on a daily basis. Those damages take their toll, causing cosmetic or technical problems, which eventually ruins the watch. All Apple Watch wearers must accept the likelihood that their gadgets may not last as long as expected. Even though each user can attempt to be careful with their Apple Watch indoors, what about the rugged outdoors? To be quite frank, the Apple Watch is so fragile that it may break on impact from the corner of your desk in the office. With the MTM Status™, wearers can withstand outdoor conditions and a solid knock or two on your desk or coffee table. The MTM Status™ will not only add life expectancy to the Apple Watch, but will also allow wearers to feel comfortable with it wherever they may go.
After a couple months of research and development, MTM was able to manufacture the ultimate Apple Watch protection, now on Kickstarter as MTM Status™. Visit this Kickstarter and pledge as a backer to help ensure the best form of Apple Watch protection. The convergence of technology and durability is the supreme goal. The future foretells the need to protect revolutionary technology, such as the Apple Watch, and MTM is in the business of providing timepiece wearers the tools & ability to withstand the elements without the risk of sacrificing your watch.
MTM Status™ is also equipped with two analog quartz micro-dials within its surround metal framework, so that wearers do not need to depend on the watch battery for time telling. During long trips, especially outdoors, charging and power accessibility may be limited or non-existent. MTM Status™ solves the dead battery issue with a 12-hour dial. The micro-dials contain customization choices amongst a compass, two 12-hour options & two digital options.
View now to take a look at the MTM Kickstarter and decide which pledge option is right for you. We invite you to become a backer of this project and share it with your friends and family. We hope to make the Apple Watch world a safer place!