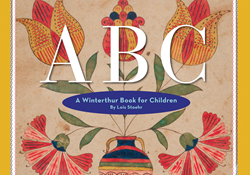 "The images and rhymes combine to teach match, technology, and, of course, history!"
Wilmington (PRWEB) December 20, 2016
"Come learn your letters along with me and discover Winterthur from A to Z!"
-- Opening page of "ABC: A Winterthur Book for Children"
Children can learn their ABC's while absorbing fun facts of history! What better way to foster excitement about learning than with the world-renowned Museum Collection at Winterthur Museum, Garden & Library. In "ABC: A Winterthur Book for Children," some of the most renowned works in Henry Francis du Pont's collection of exceptional American decorative arts are featured, like the Frederick Kemmelmeyer painting, "President George Washington reviewing the Western army at Fort Cumberland the 18th of October 1794" as teaching tools in the book.
"We could write 10 books like this," said author Lois Stoehr, Associate Curator of Education. "Winterthur has an amazingly rich collection and our library is a go-to resource for American decorative arts researchers from around the world."
The book sells for $18.95 and is available for sale online at http://www.winterthurstore.com and in the Winterthur Museum Store and the Winterthur Bookstore in Winterthur, Delaware.
Visit winterthur.org or call 800.448.3883 for more information.