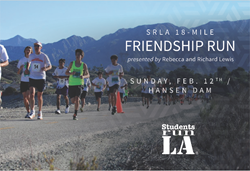 "SRLA gave me a community to not only be part of, but to lead." -Racine Camara, 10th Grade
Los Angeles, CA (PRWEB) December 20, 2016
On Sunday, February 12th, Students Run LA (SLRA), with more than 4,000 of its young participants and enthusiastic supporters, will be running in the annual SRLA Friendship Run at Hansen Dam (11001 Dronfield Ave. Pacoima, CA 91331). Students Run LA, a non-profit organization that has been recognized as a four-star charity by Charity Navigator, creates a safe, supportive community at 175 public schools across Los Angeles, welcoming more than 3,000 students of all backgrounds and abilities to train alongside their volunteer teachers to complete the Skechers Performance Los Angeles Marathon. The SRLA Friendship Run which covers the distance of 18 miles, is being presented by Rebecca and Richard Lewis, sponsors and partners of Students Run LA and is set to involve over 3,200 teenagers, 500 teachers, and 300 public runners.
For a total of 7 months, all adult mentors involved with Students Run LA volunteer to train alongside the many young students, providing a safe, positive and steady environment. Many of these students are incredibly appreciative of the mentorship and credit Students Run LA with instilling lessons in effort, commitment and success that they use in everyday life.
"SRLA gave me a community to not only be part of, but to lead." - Racine Camara, 10th Grade
Following the 22nd Annual SRLA Friendship Run, participants look forward to an even greater challenge: the well-known Skechers Performance Los Angeles Marathon being held next year on March 19, 2017. Currently, Students Run LA partners with, and is sponsored by, organizations such as American Honda Motor Co., Inc., the LA84 Foundation, Sony, Inc., Merrill Lynch, The Eisner Foundation, and more.
The following video provides an inside look into the 2011 Friendship Run: https://youtu.be/g7AuWwGIx3g
To learn more about the 2017 Friendship Run, find ways to be involved or become a sponsor, please visit https://srla.org/events/friendshiprun or contact Paul in the contact information below. For any media inquiries, including setting up interviews with any participants or sponsors please reach out to Ed Solorzano in the contact information below.
About Students Run LA
The mission of Students Run LA is to challenge at-risk secondary students to experience the benefits of goal-setting, character development, adult mentoring and improved health by providing them with a truly life-changing experience: The training for and completion of the Skechers Performance Los Angeles Marathon. Through this life-changing experience, students discover their best selves and learn how to make plans for the future.
Students Run LA Social Media Pages:
Facebook: /StudentsRunLA
Instagram: @studentsrunla
Twitter: @srla
Youtube: /srlastudents