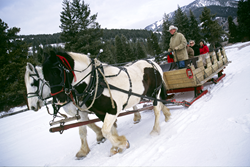 Big Sky, Montana (PRWEB) December 20, 2016
Take a sleigh ride under the starry Montana sky, and end a perfect winter day with fine cuisine and warm hospitality at the 320 Guest Ranch. The Ranch sets the scene for a memorable Western holiday with their sleigh rides and value-added sleighing overnight package.
Sleigh rides run through March 25, 2017. The 320 Guest Ranch offers both appetizer and dessert sleigh rides. The Appetizer Sleigh Ride includes a sleigh ride to the Mountain Man Campsite along the storied Gallatin River, a bowl of wild game chili, popcorn, hot chocolate, cider or coffee (or the adult version of each), ranch stories by a bonfire, and the sleigh ride back. The Dessert Sleigh Ride substitutes hot & delicious wild berry cobbler for chili. Sleigh Rides are $35 per adult and $20 per child under 12 (children under age 3 ride free).
The 320 Guest Ranch Sleigh-cation, called the Sleigh & Stay Package, is from January 4 through March 15 and includes a one-night stay in a modern log cabin, a starlit sleigh ride and dinner for two in the 320 Steakhouse. Prices are from $320 per couple for a deluxe log cabin with two queen beds, and $397 per couple for accommodations in the historic McGill Cabin, the original home of former Ranch owner, Dr. Caroline McGill. Or, make it a family affair in one of the Ranch's spacious Mountain Chalets for $455. Additional adult is $95.00 Additional child is $65.
The 320 Guest Ranch guest accommodations include beautifully appointed yet authentic log cabins. Recently refreshed, the cabins are spacious and comfortable with modern facilities and some come with complete kitchens and wood-burning fireplaces (firewood included). The 320 Steakhouse & Saloon feature cuisine of the Rocky Mountains, including single source certified Angus Beef and exquisite wild game.
The 320 Guest Ranch is just 20 miles from the boutique shops and world-renowned snow skiing of Big Sky, and just 30 minutes from snow coach tours of winter in Yellowstone National Park. Dog sledding, winter adventure Zip Line, a half day Walk & Wade fishing expeditions also available.
To book the 320 Guest Ranch Sleigh Rides, the Sleigh & Stay package or another winter package, visit http://www.320Ranch.com click onto the "Reservations" link, or call 1-800-243-0320.
About 320 Guest Ranch
Montana's premier year-round ranch destination, the 320 Guest Ranch is a historic property situated along two miles of the famed Gallatin River near Big Sky, Montana. Begun in 1898, the 320 Guest Ranch offers 87 sleeping rooms within 59 luxurious and modern cabin accommodations, log homes and mountain chalets. Many accommodations feature wood-burning fireplaces. The property offers superb dining at the 320 Steakhouse, with an emphasis on big game cuisine exquisitely prepared. The 320 Saloon is perfect for after-hours activities.
The ranch provides facilities and concierge support services for events, social and leisure activities. Close to world-class downhill and cross country skiing at Big Sky, 320 Guest Ranch offers a full range of seasonal recreational activities, such as horseback riding, trail hiking, rafting, sightseeing, mountain climbing, fly fishing (some of the world's best), hayrides, sleigh rides, snowmobiling, and many more.
On staff are experienced wranglers and horse experts, as well as a team of professionals who can assist in making a guest's experience highly memorable. The property is located 12 miles from Big Sky, 5 miles from the boundary of Yellowstone National Park and 52 miles from Bozeman, Montana, and the Gallatin Field Airport. To learn more about 320 Guest Ranch, visit http://www.320Ranch.com.
# # #