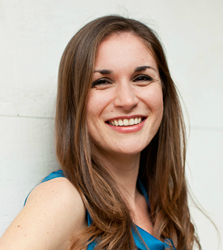 "My mission is to inspire and help people step into their ideal selves and live their most awesome lives. We only live once, so what else could possibly be more important?!"
Los Angeles, CA (PRWEB) December 21, 2016
"We only live once. Make it awesome." That's the motto of nomadic entrepreneur and founder Caitlin Cardoza, who combines personal development and humor for her life and mindset coaching business, Caitlin Cardoza AdVentures.
Ripping up her roots and throwing herself on a wild journey, Cardoza embodied her brand's message by traveling, living, and building her business across 12 countries in Asia, Africa, and Europe in 2016. After growing organically for a year, the company now announces the launch of its official website, http://www.caitlincardoza.com.
Through the brand, Cardoza unabashedly delivers blunt and humorous personal development, mindset, and life advice through her workshops, events, speaking, coaching, and daily content. "My mission is to inspire and help people step into their ideal selves and live their most awesome lives. We only live once, so what else could possibly be more important?"
What sets Cardoza apart from other personal development leaders is her unique approach to content, advice, and coaching. She is known for her hand-drawn cartoon posts, unedited videos, writing that sparks alternative thinking, tough love advice, personal connection to her audience and clients on social media, and comedic videos that feature her four alter ego characters.
"While in Taiwan I invented a funny alter ego named Trudy to use in my short videos. People loved her and kept asking for more. Long story short, now I have four characters that help me entertain as I spread my message."
Caitlin Cardoza AdVentures looks to inspire people to push past the societal norm fluff of what they "should" do to instead truly live their dreams. The brand urges its audience to get up, grow, create, thrive, and laugh as much as possible in the process. "We all need to take action right here, right now on our personal growth and dreams because we all know that 'tomorrow' never comes without an action today."
Currently, a limited number of clients can take advantage of Cardoza's one-on-one life coaching and personalized group workshops.
About Caitlin Cardoza AdVentures:
A location-independent company, Caitlin Cardoza AdVentures combines humor with personal development and success mindset to help people step into their optimal selves and live their most awesome lives. Founder Caitlin Cardoza lives, breathes, and preaches the mindset that "we only live once, so we need to be sure to make it awesome."
The brand is a revolutionary leader in the personal development industry for its unique voice, comedic tone, unconventional life advice, and out-of-the-norm creative content that Cardoza presents alongside her four humorous alter ego characters.