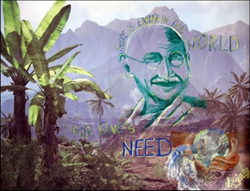 No step is too small to contribute towards the planet Earth that nourishes human beings.
(PRWEB) December 21, 2016
For more than a year now, Americans have been discussing climate change and how the government policies will impact the disruptive effects that are threatening the natural ecosystem. Artist Sujata Tibrewala tries to voice her concerns on the reality of the issue with a new exhibition at her Cupertino studio.
The artist feels there is a need of measures required to save our earth and has resorted to her art works as a medium to highlight the urgency. During the U.S. Presidential campaign, climate change remained a key issue and some of Donald Trump's statements on climate change policies did alarm the scientists. With the President elect, suggesting that he may be reviewing the clean climate policies, the artist feels that it is important for everyone to understand what risks there may be for the planet Earth, if a due diligence is not given to wasteful practices and ignorant consumption.
The subject is particularly close to Ms Tibrewala's heart as she has been involved in clean energy and save the earth initiatives on both personal and social levels. A practicing vegan, she tries and keep a tab on her own carbon footprints and has also been a part of community projects of creating art sculptures out of waste.
The artist says, that contemporary world problems, such as rising levels of carbon-di-oxide and other heat trapping gases, melting snowcaps, rising sea levels, extreme weather conditions are all indicators of the beating our atmosphere has taken.
In an exhibited work titled, 'Not Enough for Greed,' Ms Tibrewala, combines the message left by great Indian leader Mahatma Gandhi that stands relevant in today's time. Mahatma Gandhi who propagated frugal living calculated his consumption of all the resources and would limit wasteful usage. He famously said – 'The world has enough, for everyone's need but not enough for greed,' and that's the message the artist wants to give through her paintings. She reminds how the leader involved in India's freedom struggle advocated, self-dependent local units instead of mindless and often ruthless industrialization that prefers profits to giving back to the climate.
The artist believes that her exhibition is a humble attempt to make people realize that a clean energy program begins from one's own homes and no step is too small to contribute towards the planet Earth that nourishes human beings.
About the artist:
Sujata Tibrewala, a self-taught artist come engineer remarkably embodies the indomitable spirit of human existence through her works. Her works revolve around the theme of eco-feminism and women's equality. She has exhibited her artworks in some of the most reputed venues around the globe such as University of Illinois, Chicago, Raw San Jose, Parallax Art Fair London, the Regional Commission of Arts St Louis, Life Force Arts Chicago, Mindworks Gallery Chesterfield, St. Louis Artists' Guild, Chesterfield Arts, Art World Association, Women's Caucus for the Arts, MySLART and Lalit Kala Academy, Delhi.
She moved to the USA in 2010 from India and practices her art form at the Bay Area, CA, where she resides presently.