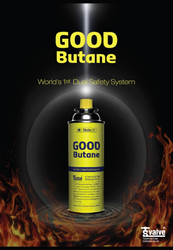 Good Butane Gas Canister offers anti-burst and fire solution
Seoul, South Korea (PRWEB) December 22, 2016
A hastily growing demand for portable fuel storage worldwide can be deemed as one of the high drivers of the gas cartridges market. Given the difficulty of other industries maintaining their business in the economic downturn, the butane gas cartridge is expected to grow at an estimated compound annual growth rate of 2.9% from 2014 to 2020.
OJC, a leading Korean company that specializes in manufacturing and exporting the highest quality Butane Gas Cartridge, set a global sales record this year. Worldwide sales of OJC's Butane Gas Cartridge to customers totaled 200 Million units from 2014~2016. The entire length of all Butane Gas Cartridge ever sold can circle the earth's circumference.
OJC product line includes Butane Gas Cartridge, Portable Stove, Torch, and Paraffin Oil.
With the butane gas market share worldwide, OJC has exported to more than 50 countries. The company manufactures customer-oriented products to global retail and wholesale markets.
To commemorate its high global sales record and to further increase its overseas exposure, OJC has recently invented the new butane gas cartridge that is called "Good Butane." Its flagship product "Good Butane" is the world's first dual safety system offering anti-burst and fire solution.
Inside of the product is the safety feature that is called "TSV" (Temperature Sensing Valve) blocks automatically the gas flow when reaching critical levels of temperature and pressure. Somehow, even as the temperature goes up more, "RVR" (Rim Vent Release) releases its gas to prevent the explosion, and at that time the gas supply is already cut off by the TSV. This dual safety system (TSV + RVR) protects users from any dangerous situation and the function is patented worldwide.
Also, OJC has released a video that entertains and informs the viewer, demonstrating the value and fun of the "Good Butane" product. In addition, the YouTube video tells a story with a focus on humor and safety. Through the video, OJC emphasizes that it is time to change your dangerous butane gas cartridges.
In becoming the world's number one provider of quality butane gas cartridge and portable stove, OJC will continue to develop new technologies and innovative products to better serve the needs of consumers. With the aim of developing environmentally sustainable products, OJC plans to become one of the top global leaders in the butane gas cartridge by 2020.