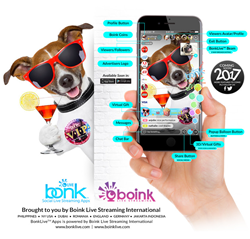 Having Fun Making Money
Bucharest Romania (PRWEB) December 20, 2016
The advent of Bonk Live's new advertising streaming concept is set to launch by the end of January 2017. The company will lead a huge upsurge in live broadcasting, while surpassing the growth of the podcast industry. The ease of adoption and consumption with live-casting will usher in a new era of personalities and programming that was previously impossible.
The new Bonk Live streaming carousal is an advertiser dream come true. The new advertising model, Created by Bonk is intended to inform, educate, persuade, and remind individuals of new product's or businesses. Bonk Advertising work's well with other marketing tools and business elements. Bonk's streaming carousal is interruptive and interesting — that is, it makes you stop thumbing through the newspaper or thinking about your day long enough because you become interested, in seeing or meeting a new streamer online while you are pushing brand name logo's on the carousal to see a new offer or read an advertisement.
Bonk live Advertising is credible, unique, and memorable and the millions of people using the application will be looking for new deals all the time while watching new content by streamers online. Not to mention all the other features it has such as:

Logo Advertisement
Pay Per Press (PPP)
1,2,3 minute Video ads
VIP AD read-through
Email Center
Video Profile
VIP Influencer Profiles
BonkLive™ Phone Call
BonkLive™ Video calling
BonkLive™ Messenger
BonkLive™ Virtual store
BonkLive™ Tiers/Levels
BonkLive™ Daily incentives
BonkLive™ On Air (BOA)
BonkLive™ Advertising Reads (BAR)
3D animated gifts with sound
BonkLive™ Detailed Stat Screen
BonkLive™ Credit Debit/Card
BonkLive™ Celebrity Concert
Bonk live has created an effective back end marketing support algorithm for the advertiser to see up to the minute stats on who is reading and who is using the offer in real time. The Bonk Algorithm has created a solid positioning strategy for 2017. Imagine being able to interact with millions of potential buyers all at the same time who press your advertising logo during any live streaming broadcast for the amount of $60 dollars for every 10 minute spot. Bonk Live advertising application can advertise up to 840,960 logo spots per year. The carousal has 16 logo spots streaming live continuously 24 hours per day on the rolling carousal on the right which changes every ten minutes. Moreover the advertising can also be region specific in every country and every language.
Typical advertising agencies and big companies worldwide spend millions to provide a media schedule for ad frequency because it is the most important element for ad memorability. The total amount of 10 minute advertising spots per year for the Bonk Live application spot's is, 840,960. A maximum of 16 logo spots will stream live 24 hours per day on the rolling carousel. That changes every 10 minutes on the left side of the smart phone or iPad. The Bonk carousal will advertise 96 logo's advertisements per hour or 2304 add spots per day.
Word-of-mouth advertising has existed as long as mankind has communicated and traded goods and services. Word-of-mouth advertising is considered the most effective form. Bonk Live, is a live streaming and advertising supper application that will provide live entertainment, and new content while giving the viewer a chance to pick and choose from products being offered around the world on the Bonk live carousal.
Bonk live streaming has the desired qualities of strong credibility, high audience attention levels, and friendly audience reception. It features open-ended conversation with questions and answers about the product, psychological incentives to purchase, memorability, efficiency and frequency. Bonk's Word-of-mouth advertising passes product information to many other potential buyers through the streaming carousal (and may even include promotional trial demonstrations and free sampling as presented by the advertiser), at little or no cost to the business.
Bonk makes it possible for any small business to build a strong advertising program that will result in word-of-mouth advertising and offers that can be seen, purchased used, and accepted in real time. Bonk will Satisfy the streamers and the viewers who will tell everyone how they had fun and received wonderful offers while simply streaming online.
Sounds great right? Well it gets better! Imagine this if you are a streamer just having fun online providing some kind of unique content, Bonk live will share part of the advertising profits with you. Its just like watching a television program and seeing your favorite sitcom. The stars have to be paid or there is no show. Fortunately for Bonk live we are not limited to a certain number of channels as there are billions of screens available. Image how many smart phones, android phones and or iPads already being used online.
Imagine Bonk live allows anyone to broadcast free while the viewer has a VIP seat as a viewer with the ultimate online audience participation. With the host's permission, fans can be beamed in, jump into conversations, text the on-air hosts and or "sit" right next to the host and the other broadcasters, who can be anyone from your next-door neighbor to a friend from school to a CEO and well-known Singer or Movie star.
Bonk users can save all or part of their broadcast and embed it into their website. Level up as a better Broadcaster! Another bonus: Bonk broadcasters have access to both audio and video formats of their recorded shows.
Why Brands Should Make Bonk Live Streaming a Priority in 2017
Live streaming is finally accessible to everyone
With Bonk live's streaming super apps, becoming a live-streaming content producer or star is as easy as owning a mobile device or laptop. Heavy, expensive equipment? Don't need it. All you need is a phone or a computer with a good web cam, decent microphone and a strong Internet connection.
If you're doing it well, you could potentially reach a very large audience with your live-streaming broadcasts. Remember all those people who are gobbling up video on their phones, right here, right now? They're always looking for new and exciting content to engage with. And your content could be just what they seek.
Live streaming is versatile
Live-streaming technology can give your fans and advertisers a front-row seat to just about anything related to your brand. Consider broadcasting product launches, sharing behind-the-scenes footage of events and hosting Q&As with experts, celebrities or influencers. You can also stream live video of podcasts and radio shows, and present fans with exclusive after-show content.
And just like with Vine, Instagram and other popular social networks, users who create high-quality content can rise to fame overnight. Your next-door neighbor can become an influencer, your co-worker can become a thought leader, and a no-name brand can skyrocket to popularity from millions of potential buyers seeing their logo on the Bonk carousal. Hey, even Justin Bieber and Pentatonix started out on YouTube.
Live streaming engenders trust between brands and consumers
social media streaming on Bonk live will be seen as "trust content" in which the brands simply spend more time with their audience while being seen on the carousal. Live streaming is a more engaging, longer form of content that allows brands and fans to create special, shared experiences. Audiences get to see faces behind the brands, put faces to names they may already know and interact with brands and their ambassadors in real time. And they get to engage with content much longer than the 30 seconds it takes to read your brand's tweet or Facebook post.
You could be spending 20, 30, or 60 minutes in one sitting with an audience member. That builds trust. Bonk live has created a super application for a the new awareness generation. There's a huge need from that for huge businesses right now. The audience expects live streams to be less polished than other video content. That takes pressure off brands to spend tons of time and money on a production crew, studio space and heavy scripting. The raw footage also makes the brand seem more human.
The virtual gift's businesses, is a model that has become as lucrative as gaming. Bonk live's super application enable viewers to reward content contributors with virtual gifts that can be purchased with real money. Bonk's Platforms take's a cash percentage of each virtual item purchased while the streamer get's the virtual gift that can also be exchanged for cash. The highly profitable sector has unsurprisingly attracted third-party companies who retail virtual gifts or market content for contributors or platforms world wide.
Brands are using live streaming more and more in order to reach the masses.
Live streaming has become a focal point as heavyweights such as Facebook, Snapchat, Twitter, and YouTube invest significant sums of money into building and enhancing their own live stream platforms, according to the Financial Times. Where as Bonk live is a super application with a unique streaming advertising carousal that gives advertisers real time results every ten minutes for a reasonable $60 dollars.
Some recent campaigns have shown the power of live streaming. Singer Gwen Stefani was the first artist to release a live music video through Periscope, which she did during a commercial break at the Grammys in March. Target sponsored the music video, and 25 million people watched the four-minute long video, which was done in one take.
BMW also debuted a campaign for its M2 model through Periscope, and users got to see the car in action on a BMW race track. More than 5,000 people were reached in the first 10 minutes, and the campaign in total amassed 48,000 social engagements, 16.6 million impressions, and 3,000 new Periscope followers.
Live streaming is on the rise, which has contributed to the growth of mobile video as a whole. Consumers are more frequently watching content on their smartphones and tablets, which has forced companies to change their approaches. Bonk Live wants entree to that elusive millennial who flocks to listicles, quizzes, animated gifs and other snackable digital fare.
Aside from the media players, there is plenty of pressure on advertisers that want to be in the content business but have flat or declining budgets, "Brands are asking, 'How can I produce more content with the same or less money?'"
The answer for media players, advertising agencies, big companies, small companies, and new products to be launched in 2017 is Bonk live, http://www.bonklive.com a streaming a company powerd by Boink Live Streaming SRL http://www.boinklive.com a company located in Bucherest Romainia. With offices in New York, Philippines, England, and Indonesia.
This press release contains forward-looking information within the meaning of Section 27A of the Securities Act of the 1933 and Section 21E of the Securities Exchange Act of 1934, and is subject to the safe harbor created by those sections.
Robert Novak
BonkLive™ Journalist