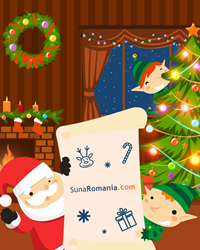 Atlanta, Georgia (PRWEB) December 20, 2016
SunaRomania.com believes all their customers have been good this year, so the website launches one special offer and a Facebook contest to celebrate Christmas. The promotion offers 90% discount on Virtual numbers, a monthly subscription created especially for the people back home in Romania.
The Virtual Number service works like this: anyone calling the customers' Virtual Number will pay the regular rate of a local call, while the customers who own the Virtual Number will pay only $0.99 in the first month. This way, the Christmas promotion from SunaRomania.com is both for Romanian expats and for their families and friends back home. Instead of $9.99/ month, customers will only pay only $0.99 in the first month, if they buy the product before December 22nd.
Beside the promotion, SunaRomania.com also hosts a Facebook contest: "Call for Santa's elves". Romanian expats are invited on SunaRomania.com Facebook page to add a comment mentioning the name of the person who fits the description of the elf SunaRomania.com is looking for this Christmas. It may be the name of a family member, a friend or even their own name. The contest is valid for two days, starting December 20.
Besides calling, Romanian expats may send useful Christmas gifts to their loved ones back home in Romania: Mobile Recharges. The international mobile recharge service SunaRomania.com offers allows customers to top up mobiles in Romania. Orange, Vodafone, and Telekom operators are available.
So, SunaRomania.com offers its customers various services they can use to stay connected to all the great people they left back in Romania and whom they still miss: "I found out about SunaRomania.com from a friend about 7-8 years ago and never used a single calling card to call home since! I rarely have any dropped calls or problems with the connection. Great experience all around. Plus, the fact that my parents can call me anytime on my cell and they pay only a local rate gives me and them great peace of mind that they can always reach me quickly in case of an emergency. [...]" - SunaRomania.com customer, on Trustpilot.com.
About SunaRomania.com
SunaRomania.com is an interactive website designed by KeepCalling, a global telecommunications company registered in 2002 in USA. Presently, KeepCalling provides its services to hundreds of thousands of consumers and businesses, with a focus on customer satisfaction. KeepCalling has been listed by Inc 5000 as one of the fastest growing companies in the USA for 5 consecutive years. In 2015 the company registered a revenue increase of over 200% from 2011 to 2014.