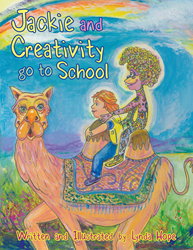 (PRWEB) January 16, 2017
CHICAGO (Jan. 16, 2017) – As technology plays a more dominant role in children's day-to-day activities, Lynda Hope is focused on helping children "tune in" to their emotions by developing and using their creativity.
Hope is the author and illustrator of "Jackie and Creativity Go to School," the first in a series of books, which encourages readers to explore creativity by expressing emotions. For the first time, Hope personifies creativity as the story follows Jackie, a six-year-old boy, and his "creativity" on their first day of school.
Hope and her production team marketed the concept of her book about 20 years ago, but Hope's two daughters inspired her to revive the creative concept. In this debut book, Jackie encounters many positive and negative characters, such as "happy," "fear" and "anxiety." Hope says she included such characters because they exist within each one of us.
Hope describes her book as "The Creatively Creative Story about Creativity" and says readers will recognize and embrace their own creativity as they join Jackie on his journey to creative discovery.
"Since this has been over 30 years in the making, my personal goal is to see this book series, as well as creative projects stem from it," Hope said. "I want the creativity buzz to envelop the world and ignite excitement and joy, as well as allow everyone to tap into their full creative potential."
Hope aims to show parents and their children that their creativity is always with them and imaginative living is a positive influence on one's life.
"Jackie and Creativity Go to School"
By Lynda Hope
ISBN: 978-1-50435-394-6 (sc); 978-1-50435-395-3 (e-book)
Available online at Amazon, Barnes & Noble and Balboa Press
About the author
Lynda Hope is a Jewish cantor and a grief recovery specialist. She received a bachelor's
degree from the University of Illinois at Urbana-Champaign and her cantorial certification from
Hebrew Union College. She currently resides in Highwood, Ill. For more information, please visit http://www.creativitystory.com.
# # #
Review Copies & Interview Requests:
LAVIDGE – Phoenix
Courtney Coombes
480-998-2600 x 612
ccoombes(at)lavidge(dot)com
General Inquiries:
LAVIDGE – Phoenix
Maggie Driver
480-998-2600 x 584
mdriver(at)lavidge(dot)com