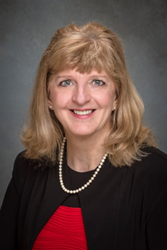 Waco, TX (PRWEB) December 20, 2016
Dr. Donna Miller was recently given the high honor of receiving the Texas Dentist of the Year™ from the Texas Academy of General Dentistry. Academy President Dr. Marc Worob stated that Dr. Miller's work made her deserving of this high honor. As respected dentists in Waco, TX, Dr. Miller and her associate, Dr. Michelle Hinds, are proud to offer a variety of leading dental treatments to Waco patients, including gum therapy, dental implant restorations and laser dentistry procedures.
As an experienced and respected dentist in Waco, TX, Dr. Miller offers dental implant restorations, veneers and laser dentistry procedures, among other treatments. Those who do not have missing teeth but who want to quickly improve the appearance of their smiles, without receiving braces, may be good candidates for Lumineers® or veneer treatments. Dr. Miller also provides sedation dentistry to patients whose anxiety prevents them from receiving the dental care they need. Sedation can help patients feel more comfortable as they undergo a variety of treatments intended to improve their oral health and appearance. Patients with missing teeth can receive dental implant restorations as an alternative to fixed bridges and dentures.
Drs. Miller and Hinds also offer gentle, laser-based procedures that can be used for a variety of dental needs, including cavity preparation, cosmetic gum issues and laser periodontal treatment. Depending on the treatment being received, patients who undergo laser procedures may need very little or no anesthetic. This is due to the unique gentle nature of laser-based treatments. Laser treatments can also be completed very rapidly when compared to traditional treatment methods. This means that multiple areas of the mouth can often be treated within a single office visit, rather than requiring the patient to make multiple appointments.
Patients who are interested in receiving laser dentistry or any of the other cutting-edge treatments offered by Drs. Miller and Hinds are encouraged to meet with the compassionate dentists in Waco, TX. Consultations and appointments can be arranged by calling Creekwood Dental Arts at 254-870-9026.
About the Practice
Creekwood Dental Arts is a general dental practice offering personalized dental care to patients in Waco, TX. Drs. Donna G. Miller and Michelle Hinds provide an array of services with state of the art technology. Dr. Miller has been honored to receive The Mastership Award from the Academy of General Dentistry, the highest and most respected award in general dentistry. To learn more about Drs. Miller and Hinds or the services they offer, please visit their website at CreekwoodDentalArts.com or call (254) 870-9026 to schedule an appointment.