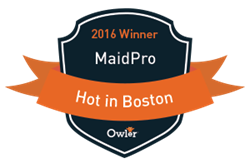 Boston, MA (PRWEB) December 21, 2016
MaidPro has been recognized by Owler, a competitive intelligence platform, as one of the world's most popular, top trending companies for 2016. Out of 9,887 Boston-based companies on Owler, only 108 were selected to the Hot in Boston list. The full list included 4,500 total winners spanning 600 cities and 15 million companies. Winners were chosen based on several metrics including number of Owler followers, community insights, social media followers, and blog posts over the past year. Earlier this year MaidPro was also honored by CNBC, Forbes, Entrepreneur, The Boston Globe, Boston Business Journal, and Franchise Business Review.
To get a free estimate for housecleaning services from MaidPro please visit http://www.maidpro.com.
To learn more about franchising please visit http://www.maidprofranchise.com.
ABOUT MAIDPRO
MaidPro is a Boston-based franchisor of house cleaning services with over 225 locations in 38 states, the District of Columbia and Canada. The company, which began franchising in 1997, takes pride in its strong owner community, cutting-edge technology and creative marketing. It has been honored with the Franchise Business Review's Four-Star Rating and Franchise 50 awards every year from 2006 to 2016 for owner satisfaction. MaidPro was named one of the Top 50 Franchises for Minorities by USA Today's Franchising Today. MaidPro is also a proud member of the International Franchise Association, Canadian Franchise Association, and the New England Franchise Association. The company can be found online at http://www.maidprofranchise.com.