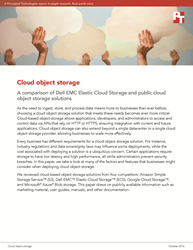 Durham, NC (PRWEB) December 21, 2016
The right cloud object storage solution can help a business integrate new applications and products and scale with growth. Principled Technologies compared the publicly available information for cloud object storage solutions from Dell EMC, Amazon, Google, and Microsoft to help organizations choose the right platform for their business needs.
To learn more about the benefits of cloud object storage and the specific storage plans available from each vendor, read the full report at http://facts.pt/2xGXgY-m.