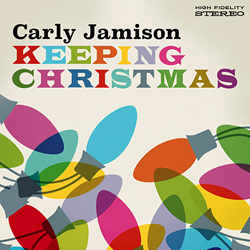 It's not often that you hear a very upbeat and inspiring song about depression.
New York, NY (PRWEB) December 21, 2016
For the third consecutive year in a row, Singer-songwriter Carly Jamison has released new original Christmas music for her fans. Last year's "Christmas May Have To Be Postponed" was a high energy old school rock and roll tune that told the story of Santa's missing reindeer and that rose to Number One on Hypem's Twitter Music Chart. The year prior, she released four new Christmas singles, three of which were self-penned - "It Feels Like Christmas Every Single Day", "Oh No Santa Claus", and "I'm Getting A Ukulele For Christmas." Each was favorably received on Christmas music blogs and Christmas music reporting websites as well as among Christmas music fans. This year, she has continued her tradition and has released "Keeping Christmas", a new original Christmas song that addresses the topic of the holiday blues.
"This song was directly inspired by a telephone conversation that I had with a friend last December," said songwriter Carly Jamison. "While I was having a great time and really enjoying the holiday season, she was telling me how depressed she was and how depressing this time of year is for people that she knows. I tend to suffer from Seasonal Affective Disorder in the winter. It's a type of fatigue and depression that can result from lack of sunlight. And it was the first year when I hadn't really felt that. So I thought, well, what am I doing different? Have my thoughts and behaviors changed in any way that could cause a difference? So the verses of the song are a combination of that telephone conversation and the thoughts that it inspired."
The song was produced by Tres Sasser and recorded at The Sound Shelter in Franklin, TN. "It's not often that you hear a very upbeat and inspiring song about depression," said Sasser. "So I thought it was an interesting angle for a new Christmas tune. Carly and I are both fans of old-school rock from the last half of the 20th century, so the final production is a unique combination inspired by 60's era Beatles, 70's era T. Rex, and 80's era Pretenders, among other things."
Players on the track include Chris Tench on guitars, Tres Sasser on bass, Elton Charles on drums, and Spencer Martin on keyboards. Background vocals are by Tres Sasser and Brett Ryan Stewart. The song was engineered by Brett Ryan Stewart and mixed by Chris Wilkinson. Mastering was done by Dave Gardner at Infrasonic Sound.
"Keeping Christmas" was released on OK!Good Records. Jurgen Korduletsch, president of OK!Good Records said "This is a new song that needs to be on everybody's Christmas party playlist. Its positive message and infectious energy is truly contagious." It is currently available where all digital music is streamed or sold.
More information can be found at http://www.carlyjamison.com and also at http://www.okgoodrecords.com