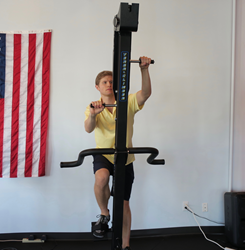 (PRWEB) December 26, 2016
The totally customized one on one sessions provide a holistic approach to fitness, fat loss and body transformation. Elite's performance enhancement specialist will guide trainers through every step of the way.
Clients will receive:
Full training on and access to the Versa Climber, acknowledged as the most effective cardio fat burner in existence.
Daily guidance and instruction in the 15-minute High Intensity Interval training workout that gets results like nothing else.
Detailed explanation of and step-by-step guidance through the Keto diet, the world's most effective fat loss nutrition plan.
Mental intensity training to allow clients to focus like a laser on their goals
The Fitness Fast Track One on One coach is Elite's performance enhancement specialist, William Byrd. After years of experimentation, Byrd has found the combination that gets results in the shortest time period.
"A lot of people start the year of with either exercise or a diet", says Byrd. "But unless they combine the two, they'll never get the results they're after. The problem is most people have no clue how to do it. By synchronizing the most effective cardio program with the Keto diet, we can supercharge the metabolism and turn the body into a fat burning machine 24/7."
The Event
What: Fitness Fast Track One On One
When: Runs through January and February, 2017
Where: Elite Training, Boston
150 Belmont Street
Watertown, MA 02472
Contact: William Byrd:
will(at)elitetrainingboston(dot)com
The Trainer
William Byrd is a certified personal trainer with accreditation from the International Sports Sciences Association (ISSA), Functional Movement Systems (FMS) and the National Academy of Sports Medicine. He has trained hundreds of clients to achieve the shape of their lives, including professional sports people striving for peak performance, housewives looking to drop extra pounds and celebrities intent on nailing a role.
While working on a major movie production in Los Angeles a number of years ago, Byrd was introduced to the VersaClimber cardio trainer. He immediately saw the superiority of training the VersaClimber way and spent the next year studying it and developing the most effective routines to complement it.
Byrd's goal was to bring the benefits of the VersaClimber to people in the East Coast. He achieved that goal with the opening of Elite Training Boston, the East Coast's first VersaClimber equipped fitness center. In addition to a selection of brand new VersaClimbers, the facility features a full range of Eleiko bars and resistance plates, along with more traditional cardio equipment such as rower and treadmills.
The Studio
Elite Training Boston is a fully equipped, state of the art fitness training studio. The studio also features a boxing ring. It offers the perfect match of fully equipped functionality and personalized attention to detail service.
Elite Training Boston offer classes every 45 minutes throughout the day between 6am and 7:00 pm.
The studio is located at:
150 Belmont St, Watertown, MA 02472
617-505-2627
Contact Information:
Elite Traiing Boston
150 Belmont St, Watertown, MA 02472
617-505-2627
will(at)elitetrainingboston(dot)com