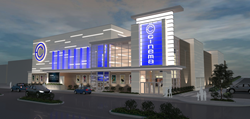 Everything a movie-goer could want will be available at The Point.
Epping, NH (PRWEB) January 10, 2017
This past November, O'neil Cinemas officially broke ground on its new theater to be located at The Point, a 540,000-square-foot retail destination located at the intersection of I-495 (Exit 31) and Route 119 in Littleton, Mass. O'neil Cinemas in Epping, N.H., is located at 24 Calef Highway in Brickyard Square.
"We're so excited to be opening this new location," says Daniel R. O'Neil, Executive Vice President of O'neil Cinemas. "O'neil Cinemas at The Point will be a great addition to the Littleton community, providing residents with an entertainment destination within the shopping and leisure complex."
President and CEO Daniel C. O'Neil stated: "The cinema complex is approved for 12 screens. We will open with 8 screens and expand to 12 auditoriums in the second phase of construction."
The cinema complex will feature state-of-the-art wall-to-wall screens with all-stadium seating, 7.1 Dolby Digital Surround Sound, Vivid 4K Digital Projection, the latest 3D viewing technology, closed captioning, and all leather deluxe loungers with arm tables and electronic fully reclinable foot rests. The Grand DLX Auditorium will include a 72-foot-wide curved screen, the biggest in the region and one of the largest in the United States, and a Dolby Atmos three-dimensional sound system that makes movie-goers feel like they're completely immersed in the action onscreen.
The new theater will also include the Backstage Lounge, a 76-seat restaurant and bar serving a vast array of entrées like burgers and pizza, appetizers, desserts, cocktails, and beers. Movie-goers can enjoy dining in the Backstage Lounge, or take their food and drinks with them into the auditorium while they watch their movie. The lounge will feature a 20-foot-wide screen for enjoying live entertainment and sporting events.
Other businesses located in The Point include Market Basket, Starbucks, AT&T, Tavern in the Square, and Courtyard Marriott.
"O'neil Cinemas at The Point will offer the ultimate movie theater experience, with top-notch technology and amenities," says Tim O'Neil, Executive Vice President of O'neil Cinemas. "Everything a movie-goer could want will be available at The Point."
Like O'neil Cinemas Epping, O'neil Cinemas at The Point will include All Reserved Seating, birthday party and corporate event packages, bulk discount ticket programs, and the O'neil Cinemas Loyalty Club to accumulate points toward upgrades and discounts.
The O'neil Cinemas at The Point project is being financed through Lowell Five Bank in Lowell, Mass. Hutter Construction Corporation of New Ipswich, N.H., is constructing the complex and Schroeder & Holt Architects of Milwaukee, Wis., is providing the architectural services for the project.
Visit the O'neil Cinemas website for updates on the theater development and for details on upcoming events and movie releases. Movie fans can also subscribe to the O'neil Cinemas newsletter to stay connected.