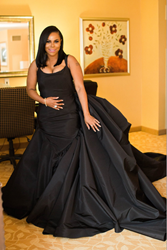 Our goals are driven by the belief that everyone deserves the opportunity to maximize their potential.
RALEIGH, NC (PRWEB) December 22, 2016
Heartfelt Alternatives, Inc. hosted a Gala event honoring CEO Tabatha E. Moore for her 10 year anniversary.. The event was highlighted by the presentation of a community service award for Ms. Moore's tireless efforts as a Mental Health Service provider. As a child Moore dreamed of all the things she would do as an adult. It is rare to encounter an individual who has laid the foundation for each dream simultaneously, in preparation to seize opportunity. Ms. Moore is an alumna of Fayetteville State. Through her studies and research she came to understand that a mission was within her to serve the people. In 2003 Moore graduated with a degree in Criminal Justice and went on to obtain her Masters in Social Work from Fayetteville State University in 2007.
Upon graduating Ms. Moore applied to become a licensed Social Worker, believing that she was destined to open her own mental health agency. With her plan in its infancy state, Moore had the presence of mind to incorporate her company in 2006, which she named "Heartfelt Alternatives." Rather than dive in feet first, Moore knew that it would be to her advantage to work in her field to learn the business side of Social Work. After two years of working at various agencies, which Moore refers to as "completing her due diligence," throughout the Fayetteville and Raleigh North Carolina area, Moore stepped out on faith in her own abilities and opened Heartfelt Alternatives for business in Raleigh, NC. In honor of her 10 Year Anniversary, and a major milestone in her career, Moore wanted to share a special night with very special people who faithfully supported her journey.
Attendees shared images of the black-tie, red carpet Gala live on social media. Under the management of Rhonda Smith Hicks, Amazing Grace Events Management, guests were "wow'd" from the moment they arrived with a live red carpet greeter and live toy soldiers. Ms. Moore vision for the Gala drew on her experience as a creative consultant for the Soul Train Awards, and relationships with New York Fashion Week Runway notables, BCBG Maxazria and Herve Leger. Soon after the guests were seated, Tabatha Moore and her daughters made a royal entrance. The Guest of Honor and her three beautiful daughters, Ta'quera, Mariah, and Jahri, were adorned with couture from a new Crown Collection by global Stylist and Designer Anthony L. Williams, of Project Runway fame. Celebrity dream-team, Makeup artist Lauren Sinclair and Hair Guru Bylel Harris, have been an integral part of introducing, Ms. Moore makeup line, the TABBYCAT brand, to their numerous celebrity clients.
Following an elegant dinner, presentations began with the showing of a documentary film that chronicled Ms. Moore's journey to becoming a very successful business owner. As Executive Director of the project, Tabatha Moore commissioned director Jaisun McMillian and filmmaker Victor Stone to produce the film. The detailed biopic answered the question, who is Tabatha Moore? And how did she conquer the challenges and successfully build her business at such a young age? Ms. Moore credited her family and the ability to surround herself with a great staff.
Guest speakers for the evening included Mr. James Benton, Chairman of the Mayor's Committee for Persons with Disabilities and employments specialist at the Governor Morehead School for the Blind and Carolyn Marshall Covington, Director of Insightful Visionaries. Mr. Benton shared the correlation between disability and mental health. Mrs. Covington, creator of Beauty for Sight and Insightful Visionaries, is an active spokesperson and champion for empowering the blind and visually impaired.. Following the presentation, Ms. Moore presented Mrs. Covington with a donation of $1000 to Insightful Visionaries. The evening included performances by The Stanley Baird Group, jazz ensemble, and a surprise musical tribute to Ms. Moore from, Ernest Leonard, PLLC for Heartfelt Alternatives, Inc. and Jaisun McMillian, Director of Operations for Tabbycat Brand, LLC.
After all presentations were complete, Ms. Moore ascended to the stage and offered praise and thanks to her team, and staff for their tributes, accolades and support. The audience was captivated by her presence and inspiring message. She spoke of how everyone possessed the power within, to overcome obstacles and limitations and fulfill their dreams.. It was obvious that her daughters, community service and tenure as CEO of Heartfelt were a great source of inspiration for the speech she delivered so passionately. The audience stood to its feet giving an ovation worthy of a First Lady.